Fundamentals of Electronic Circuit Design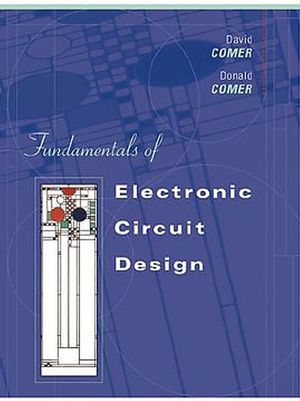 Fundamentals of Electronic Circuit Design
ISBN: 978-0-471-41016-4
May 2002
512 pages
Product not available for purchase
Description
This brief alternative to traditionally sequenced texts presents the fundamental principles of modern electronic circuit design. It features all the breadth of coverage you would find in a larger text, but at a depth that makes it easy to cover in one semester. The authors focus on modern, integrated circuit design and concentrate on two devices that are used in practice today: the metal-oxide semiconductor field-effect transistor (MOSFET) and the bipolar junction transistor (BJT). Throughout, the text emphasizes a practical, applied approach with a strong emphasis on design. A second volume is available that includes advanced topics.
Introduction to Electronics.

Applications of Electronic Circuits.

Amplifier Models and Frequency Response.

Modeling and the Operational Amplifier.

The Semiconductor Diode and Nonlinear Modeling.

The MOSFET.

The BJT.

Integrated Circuit Design.

Integrated Circuit Design with the MOSFET.

Integrated Circuit Design with the BJT.

The Differential Stage and the Op Amp.

Feedback Amplifiers.

Large-Signal Circuits.

Basic CMOS Logic Circuits.

Appendix A: Basic Equations in Amplifier Design.

Appendix B: Answers to Selected Problems.

Index.
Concise, streamlined presentation of topics.
Unique Chapter 1 on history of electronics to motivate study of the subject.
Three separate chapters emphasize IC design. Students learn the differences required between discrete and integrated circuit design.
Spice simulations are integrated into each IC chapter. Students learn the value of this key tool and are prepared to use it in industry.
Practical Considerations are boxes that relate real-world applications areas to concepts within chapters to provide students with a strong sense of connections to the real world.
Demonstration Problems set up the important concepts that will be studied in the chapter. At the end, a separate Discussion of the Demonstration Problem relates the concepts back to the problem.
The Important Concepts box reminds the reader of the most important topics in the chapter.
Practice Problems are brief exercises designed to test the students immediate grasp of a concept. The answer is included.