Fundamentals of Engineering Thermodynamics, 8th Edition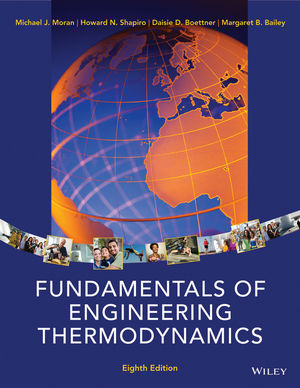 Fundamentals of Engineering Thermodynamics, 8th Edition
ISBN: 978-1-118-83231-8
Apr 2014
1056 pages
Description
Fundamentals of Engineering Thermodynamics, 8th Edition by Moran, Shapiro, Boettner and Bailey continues its tradition of setting the standard for teaching students how to be effective problem solvers. Now in its eighth edition, this market-leading text emphasizes the authors collective teaching expertise as well as the signature methodologies that have taught entire generations of engineers worldwide.

Integrated throughout the text are real-world applications that emphasize the relevance of thermodynamics principles to some of the most critical problems and issues of today, including a wealth of coverage of topics related to energy and the environment, biomedical/bioengineering, and emerging technologies.
Chapter 1 Getting Started: Introductory Concepts and Definitions
Chapter 2 Energy and the First Law of Thermodynamics
Chapter 3 Evaluating Properties
Chapter 4 Control Volume Analysis Using Energy
Chapter 5 The Second Law of Thermodynamics
Chapter 6 Using Entropy
Chapter 7 Exergy Analysis
Chapter 8 Vapor Power Systems
Chapter 9 Gas Power Systems
Chapter 10 Refrigeration and Heat Pump Systems
Chapter 11 Thermodynamic Relations
Chapter 12 Ideal Gas Mixture and Psychrometric Applications
Chapter 13 Reacting Mixtures and Combustion
Chapter 14
Chemical and Phase Equilibrium
Appendix Tables, Figures, and Charts
Index to Tables in SI Units
Index to Tables in English Units
Index to Figures and Charts
IndexAnswers to Selected Problems
Updated coverage of contemporary applications for thermodynamics in the fields of biomedicine and bioengineering, along with coverage of energy and the environment and emerging technologies.
New solved examples added to relevant topics within several core chapters.
New coverage of refrigeration systems with additional charts and/or tables providing properties for emerging refrigerant(s).
A wealth of new and revised homework problems (over 30%), refreshing the extensive selection of problems in every chapter and organized to help students develop engineering skills in three modes: conceptual, skill building, and design/open ended problems.
New online tutorial focused on teaching students how to use the steam tables to solve problems.
Over 600 new "Checking Understanding" exercises built into in each of the core chapters. 
Strong pedagogical structure to enhance student learning—starting each chapter with learning outcomes followed by both in-text and formal examples and a self-quiz for immediate feedback on understanding. Each chapter ends with a chapter summary to review the topics and prepare for examinations.
Flexible coverage of application areas in chapters 8-14, including power and refrigeration cycles, psychometrics, and combustion. Instructors can choose various levels of coverage ranging from short introductions to in-depth studies.
Class-tested and proven approaches on key thermodynamics concepts, including: the second law of thermodynamics, featuring the entropy balance (Chap. 6), and exergy analysis (Chaps. 7 and 13).
Integrates the use of computational software tools to enhance problem-solving and to deepen learning by indicating which end-of-chapter problems are appropriate for these methods.