Fundamentals of Esthetic Implant Dentistry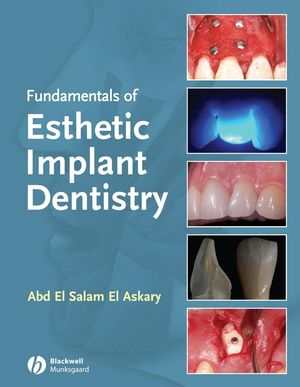 Fundamentals of Esthetic Implant Dentistry
ISBN: 978-0-470-37633-1
Apr 2008, Wiley-Blackwell
352 pages
Description
Esthetic dentistry and implant dentistry continue to grow in patient demand and professional popularity. More now than ever, clinicians are faced with the need to combine form with function, art with science. The considerable scientific and technical leaps that have been made in this field mean that this goal is now more achievable, and Fundamentals of Esthetic Implant Dentistry seeks to share these advances with practitioners and students alike.
List of Contributors, viii
Foreword, ix
Preface, x
Acknowledgments, xii
About the Author, xiv
Chapter 1 Introduction, 3
Chapter 2 Diagnostic Considerations for Esthetic Implant Therapy, Chapter 3 Contemporary Facial Evaluation, 79
Chapter 4 Multidimensional Esthetic Implant Positioning, Chapter 5 Intraoral Plastic Soft Tissue Surgery, 127
Chapter 6 Immediate Esthetic Implant Therapy, Chapter 7 Socket Augmentation: Rationale Technique, 209
Chapter 8 The Interimplant Papilla, 225
Chapter 9 Tissue Engineering in Surgery, 255
Chapter 10 Prosthetic Technologies Techniques Beyond the Mere Fixture, 263
Chapter 11 The Art and Science Matching in Esthetic Implant Dentistry, 275
Chapter 12 Treatment Complications in the Esthetic Zone, 301
Index, 329
This...is one of the few textbooks which focuses on the esthetic issues related to implant dentistry. The approach and organization are superb...the clinical photos are outstanding and of very high quality.
The overall concept and presentation of this textbook for esthetic implant dentistry could significantly enhance clinicians' diagnostic and treatment acumen in this field.

Implant Dentistry


Features current topics in esthetic implantology


Applies latest advances in clinical techniques to real-world dentistry


Offers extensive sections on smile design and papilla reconstruction


Comprehensively and thoroughly referenced


Techniques illustrated step-by-step with an abundance of clinical photographs