Fundamentals of Gas Dynamics, 2nd Edition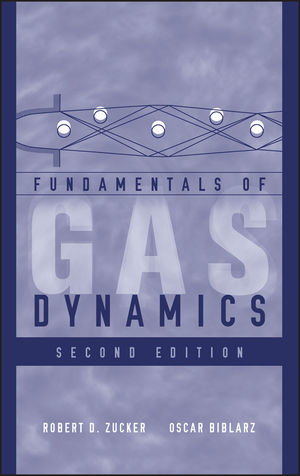 Fundamentals of Gas Dynamics, 2nd Edition
ISBN: 978-0-471-27544-2
Oct 2002
512 pages
Description
Provides all necessary equations, tables, and charts as well as self tests.
Included chapters cover reaction propulsion systems and real gas effects.
Written and organized in a manner that makes it accessible for self learning.
Preface.

To the Student.

Review of Elementary Principles.

Control Volume Analysis-Part I.

Control Volume Analysis-Part II.

Introduction to Compressible Flow.

Varying-Area Adiabatic Flow.

Standing Normal Shocks.

Moving and Oblique Shocks.

Prandtl-Meyer Flow.

Fanno Flow.

Rayleigh Flow.

Real Gas Effects.

Propulsion Systems.

Appendixes.

Selected References.

Answers to Problems.

Index.
Updated information on propulsion applications and new engine photographs
Updated material and appendixes on conical shocks
New to this Second Edition is a chapter covering real gas behavior. The information in this chapter provides a valuable bridge between the conventional types of lower-temperature applications and propulsion applications, both covered elsewhere in this book. Included in this new chapter on real gas behavior is a simplified technique for solving problems where the ratio of the heat capacities varies appreciably, as well as discussions and examples comparing this technique to more exact methods.
Key parameter variations plotted as a function of Mach number
Appendixes containing information to treat air as a real gas
Enhanced gas property tabular entries that are given in both English Engineering and SI units
Alternatives to using tabular information in calculations