Fundamentals of Global Operations Management, 2nd Edition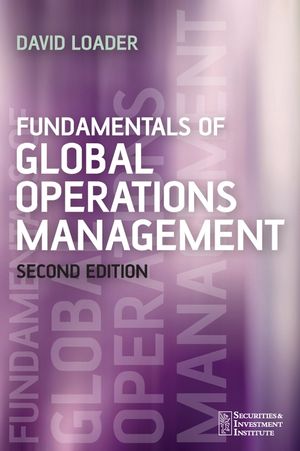 Fundamentals of Global Operations Management, 2nd Edition
ISBN: 978-0-470-03180-3 January 2007 448 Pages
Description
Fundamentals of Global Operations Management, 2nd Edition provides an overview of the fundamentals of the operations functions and is suitable for people working in any organization in the financial markets. Key issues affecting the industry are covered, such as operational risk management, traditional and new market environments, mergers and alliances, and integration across clearing and settlement. It also looks at how globalisation is presenting new challenges in operations and the new regulatory environment. David Loader takes the reader through the many issues that are important in a management or supervisory role in a practical rather than theoretical way. The new edition features updated regulations and examples.
Preface.
About the author.
1 OPERATIONS MANAGEMENT.
2 MARKETS.
Equity securities.
Debt securities.
Derivative markets.
Foreign exchange and money markets.
Retail and other products.
Other products.
Market and product knowledge.
Market structure and membership.
Products traded.
Structure and characteristics of the products.
Clearing mechanisms, membership and the clearing house role.
Structure of securities clearing and settlement conventions.
Regulation, accounting and tax issues.
Policy, procedures and controls.
3 BANKING, BROKING AND INSTITUTIONAL CLIENTS.
What are the issues for the operations managers in these scenarios?
4 CONCEPTS OF RISK.
Settlement risk.
System risk.
Counterparty and agent risk.
Personnel risk.
Regulatory risk.
Legal risk.
Reputational risk.
Infrastructure risk.
Financial risk.
Disaster risk.
5 CLEARING AND SETTLEMENT.
Fixed rate bonds.
Floating rate notes.
The role of the clearing house.
The concept of margining, collateral and treasury management.
Margin.
Collateral.
Treasury management.
OTC derivatives.
Products.
Swaps.
OTC options.
Settlement of OTC products.
Event calendar.
Communication/Information.
Other settlement issues.
Accounting and regulatory issues.
SwapClear.
SwapsWire.
Summary.
Suggested further reading.
Checklists.
6 CUSTODY.
7 TECHNOLOGY.
8 REGULATION AND COMPLIANCE.
Basel II, Sarbanes–Oxley and UCITS Directive.
9 CLIENT SERVICES.
The approach to customer relationships and the 'client culture'.
Structure of client services within the operations team.
Responsibility.
Measuring performance.
Escalation procedures.
Client liaison programmes.
Front-office client team.
Industry issues.
Analysing the competition.
Developing the service.
What are the potential problems in customer relationships?
Managing risk within the customer relationship.
Client visits.
10 OPERATIONS IN THE FUTURE.
Appendices.
A UCITS III: INTRODUCTION.
B EXTRACTS FROM SARBANES–OXLEY ACT OF 2002.
C THE G30 TWENTY RECOMMENDATIONS.
D SOUND PRACTICES FOR THE MANAGEMENT AND SUPERVISION OF OPERATIONAL RISK (February 2003).
Glossary.
Useful websites and selected further reading.
Index.
David Loader is an internationally respected trainer and consultant with many
years of experience of operations.
Operations management is particularly complex within the finance industry.
The book is based on class tested material at the SII