Fundamentals of Ground Water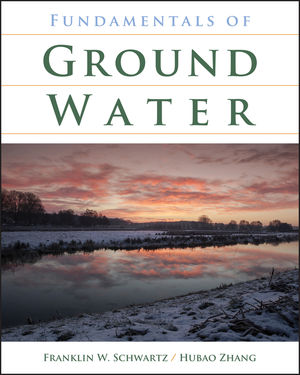 Fundamentals of Ground Water
ISBN: 978-0-471-13785-6 December 2002 592 Pages
Description
Fundamentals of Ground Water provides the reader with the fundamental principles of the hydraulic cycle. Also complete with illustrations and real-life case studies, this text takes a comprehensive and realistic approach to the subject of hydrology. It also contains strong interactive computer-based programs for solving and simulating hydraulics groundwater processes.
Cannot be combined with any other offers.
Original Price:$448.90
Purchased together:$336.67
save $112.23
Table of contents
1. Introduction to Ground Water.
2. Hydrologic Processes at the Earth's Surface.
3. Basic Principles of Ground-Water Flow.
4. Geology and Ground Water.
5. Theory of Ground-Water Flow.
6. Theory of Ground-Water Flow in Unsaturated Zones and Fractured Media.
7. Basic Geologic and Hydrogeologic Investigations.
8. Regional Ground-Water Flow.
9. Response of Confined Aquifers to Pumping.
10. Leaky Confined Aquifers and Partially-Penetrating Wells.
11. Response of An Unconfined Aquifer to Pumping.
12. Slug, Step and Intermittent Tests.
13. Superposition and Bounded Aquifers.
14. Solving Well-Hydraulics Problems with a PC.
15. Management of Ground-Water Resources.
16. Dissolved Mass in Ground Water.
17. Kinetic and Equilibrium Reactions.
18. Key Reactions Influencing Ground-Water Chemistry.
19. Basics of Mass Transport, Advection, and Dispersion.
20. Isotopes and Age Dating.
21. Geochemistry of Natural Water Systems.
22. Introduction to Contaminant Hydrogeology.
23. Investigating Contamination Problems in the Field.
24. Modeling Contaminant Transport.
Appendix A: Table of Atomic Weights.
References .
Index.
Reviews
"...one of the most comprehensive texts on the subject...should be widely used as a teaching vehicle..." (Environmental Geology, Vol 45(7), May 2004)
Features
In-text pedagogy featuring numerous worked examples and exercises in each chapter, as well as end-of-chapter highlights to emphasize important concepts.
Can serve as an introductory groundwater text for students or as a reference for ground-water professionals.
Window-based computer programs simulate groundwater processes.
Excel spreadsheet programs demonstrate the calculation of mass transport processes.
PowerPoint slides illustrate field methods and technology, and take students on virtual tours of interesting study areas and field problems.