Fundamentals of Human Resource Management, 11th Edition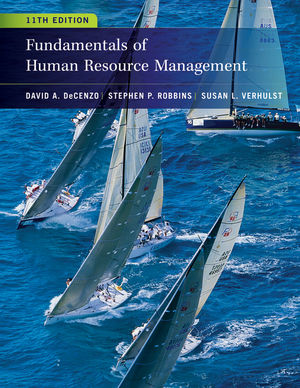 Fundamentals of Human Resource Management, 11th Edition
ISBN: 978-1-118-37968-4
Nov 2012
448 pages
Product not available for purchase
Description
The 11th Edition of Fundamentals of Human Resource Management helps students understand and remember concepts through a straightforward and conversational writing style and a wealth of examples to clarify ideas and build interest. The authors provide a strong foundation of essential elements of Human Resource Management as well as a clear understanding of how Human Resource Management links with business strategy. Through practical applications, the authors illustrate the importance of employees on every level of the organization, helping students understand HRM elements such as recruitment, training, motivation, retention, safety, the legal environment, and how they support successful business strategies.
Part 1 UNDERSTANDING HRM
01 The Dynamic Environment of HRM 3
02 Functions and Strategy 29
Part 2 THE LEGAL AND ETHICAL CONTEXT OF HRM
03 Equal Employment Opportunity 57
04 Employee Rights and Discipline 91
Part 3 STAFFING THE ORGANIZATION
05 Human Resource Planning and Job Analysis 119
06 Recruiting 141
07 Foundations of Selection 163
Part 4 TRAINING AND DEVELOPMENT
08 Socializing, Orienting, and Developing Employees 193
09 Managing Careers 221
Part 5 MAINTAINING HIGH PERFORMANCE
10 Establishing the Performance Management System 243
11 Establishing Rewards and Pay Plans 275
12 Employee Benefits 301
13 Ensuring a Safe and Healthy Work Environment 331
Part 6 LABOR-MANAGEMENT ENVIRONMENTS
14 Understanding Labor Relations and Collective Bargaining 359
Endnotes 384
Glossary 408
Company Index 415
Subject Index 417
New Coverage of Social Media: new discussion of the impact of social media in many aspects of HR including recruiting, selection, employee rights and discipline.
Economy and HR Strategy: New content related to the impact of the economy and economic recovery on HR, including rebuilding a workforce.
Significant Revision of Chapter 3, Equal Employment Opportunity: new discussions and content include a look at the complex Wal-Mart class action discrimination suit.
Incorporation of Current Topics: new discussion of topics including slackers in the workplace, innovative flexible work scheduling, and executive compensation and benefits.
OSHA Updates: Significant overhaul of Chapter 13, Ensuring a Safe and Healthy Work Environment, especially related to safety and OSHA.
Writing style: A clear, conversational and straightforward writing style allows students to better understand and remember concepts in the text.
Comprehensive Pedagogy: Learning outcomes, chapter summaries, key terms, review and discussion questions are just some of the features that provide opportunities for student comprehension, assignments and in class discussion.
The HRM Workshop: These end-of-chapter sections are designed to help students build analytical, diagnostic, team-building, investigative, presentation, communication, and writing skills.
Relevant Examples and Cases: The authors incorporate examples and cases from real companies to stimulate interest and help students make connections between theory and application.
SHRM Correlation: The objectives and content in this text have been created to be compatible with the content areas and curriculum templates developed and suggested by the Society of Human Resource Management.