Fundamentals of International Business, 1st Asia-Pacific Edition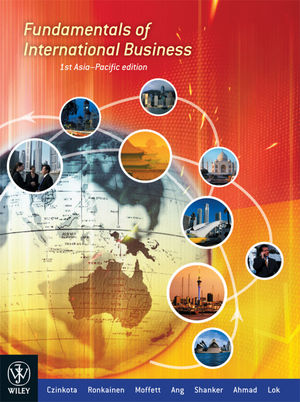 Fundamentals of International Business, 1st Asia-Pacific Edition
ISBN: 978-0-730-31249-9
Nov 2013
340 pages
Product not available for purchase
Description

Fundamentals of International Business 1st Asia Pacific Edition is an introductory international business text ideal for use at the undergraduate level. While providing a broad overview of international business as it is conducted around the globe, a key differentiating theme of the text is its focus on the rapidly growing Asian region. This focus is achieved through analysing the increasing efforts of Australian, New Zealand, European and United States firms in conducting international business in these Asian markets, as well as the activities of organisations from Australian, New Zealand and Asian countries expanding into the lucrative markets of the United States and Europe.



Today's fast-paced, competitive and increasingly globalised business environment presents both new challenges and opportunities for international business managers. Fundamentals of International Business 1st Asia-Pacific Edition provides readers with the key knowledge and practical skills necessary to successfully conduct international business in our region, namely:
An appreciation of the cultural differences of markets in the Asia-Pacific and how to deal with this diversity
Broad understanding of the range of economic, political and legal issues that can affect the success of international business ventures
Literacy in financial terminology and awareness of the impact of international financial markets and instruments on business operations
Information on government assistance programs for export development
An evaluation of alternative market entry strategies
International trade trends
An outline of the international marketing, supply chain and human resource management issues likely to be encountered
This visually stunning, full colour text makes extensive use of maps, tables, graphs and charts to present key concepts and information clearly and concisely. Its solid theoretical base coupled with a wealth of practical examples and activities makes it the ideal resource for contemporary international business managers, students and lecturers in the Asia-Pacific region.
PART 1 Globalisation
Chapter 1 Introduction to international business
PART 2 Environmental drivers
Chapter 2 Cultural environment
Chapter 3 International trade environment
Chapter 4 Political and legal environment
Chapter 5 Economic integration
PART 3 International trade and investment
Chapter 6 Trade theories
Chapter 7 Investment theory and international transactions
PART 4 International finance
Chapter 8 Foreign exchange
Chapter 9 International financial markets
PART 5 International operations strategies
Chapter 10 Market entry
Chapter 11 Market development
Chapter 12 International marketing
Chapter 13 International logistics
Chapter 14 International management
PART 6 The Future
Chapter 15 The future of international business
Features in each chapter:
Learning Objectives: Each chapter of the text is structured around learning objectives. These numbered objectives are identified at the start of the chapter, explained in detail within the chapter, and then concisely addressed in the summary section at the end of the chapter.
Opening Case Studies: The international business activities of a real world organisation are featured at the start of each chapter.
Spotlights: These boxed features within each chapter offer concrete examples of the issues confronting international business decision-makers.
Culture Clues: Interspersed throughout the text are 'Culture Clues' boxed features that provide practical tips and insights into different cultures, highlighting the diversity of markets in the Asia-Pacific region.
Fast Facts: Presented in a Q and A format, these facts provide interesting 'one liner' style key information about various Asia-Pacific markets.
Marginal Glossary: An extensive marginal glossary makes it easier for students to locate and understand key terms. The end-of-the-book glossary contains all key terms and definitions in a convenient alphabetical form.
Maps: To increase the geographic literacy of students, the text contains excellent maps that provide the lecturer with the means to demonstrate concepts visually, such as political blocs, socioeconomic variables, and transportation routes
Closing Case Studies: Key concepts from each chapter are explored by analysing the experiences of real world organisations.
Review Questions and Critical Skill Building Activities: The review questions and critical skill building activities are complementary learning tools that allow students to check their understanding of key issues, to think beyond basic concepts and apply their knowledge.
On the Web Activities: Each chapter contains two to three Internet exercises where students are asked to explore the Web and further research important international business topics.