Fundamentals of Materials Science and Engineering: An Integrated Approach, 5th Edition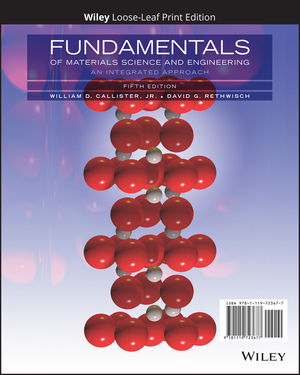 Fundamentals of Materials Science and Engineering: An Integrated Approach, 5th Edition
Product not available for purchase
Description
Fundamentals of Materials Science and Engineering takes an integrated approach to the sequence of topics – one specific structure, characteristic, or property type is covered in turn for all three basic material types: metals, ceramics, and polymeric materials. This presentation permits the early introduction of non-metals and supports the engineer's role in choosing materials based upon their characteristics. Using clear, concise terminology that is familiar to students, Fundamentals presents material at an appropriate level for both student comprehension and instructors who may not have a materials background.
Introduction
Atomic Structure and Interatomic Bonding
Structures of Metals and Ceramics
Polymer Structures
Imperfections in Solids
Diffusion
Mechanical Properties
Deformation and Strengthening Mechanisms
Failure
Phase Diagrams
Phase Transformations
Electrical Properties
Types and Applications of Materials
Synthesis, Fabrication, and Processing of Materials
Composites
Corrosion and Degradation of Materials
Thermal Properties
Magnetic Properties
Optical Properties
Economic, Environmental, and Societal Issues in Materials Science and Engineering
Appendix A. The International System of Units (SI)
Appendix B. Properties of Selected Engineering Materials
Appendix C. Costs and Relative Costs for Selected Engineering Materials
Appendix D. Repeat Unit Structures for Common Polymers
Appendix E: Glass Transition and Melting Temperatures for Common Polymeric Materials


New to WileyPLUS:
New resources designed to support a more engaging Learning Experience and more meaningful Learning Outcomes:
VMSE (Virtual Materials Science & Engineering), with a new interface, helps students visualize concepts related to crystal structures, diffusion tensile tests, and more. For example, it allows students to rotate unit cells in 3-d to better understand molecular structures. Also includes a Database of Engineering Materials Properties that can be used for materials selection problems.
Questions about VMS: Questions that students need to use VMSE to answer help students get best value from its use, and instructors incentivize its use.
Video Tutorials - "muddy point" videos feature a student explaining tough concepts that have been identified through research as the most
The authors present the basic fundamentals on a level appropriate for university/college students who have completed their freshmen calculus, chemistry, and physics courses.

Topics and concepts are treated in sufficient detail to the extent that students have the opportunity to fully understand it without having to consult other sources.

The "Why Study?" element at the opening of each chapter highlights important applications of materials science engineering.

The Virtual Materials Science and Engineering (VMSE) animations facilitate student visualization of molecular structures and the learning of key concepts.

Concept Check questions enable students to self-assess their understanding of basic concepts.

Appendices that list property and price for a large number of materials enable the student to solve a number of materials selection problems that are presented in the book.