Fundamentals of Professional Food Preparation: A Laboratory Text-Workbook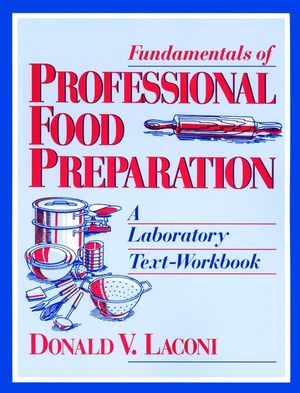 Fundamentals of Professional Food Preparation: A Laboratory Text-Workbook
ISBN: 978-0-471-59523-6
Feb 1995
216 pages
Description
A basic text-workbook for the food preparation lab portion of the ``foodservice fundamentals'' course. Twenty-two compact chapters offer information on cooking procedures and food categories. Features small quantity recipes with simple ingredient, equipment and procedure lists, mise en place (prep) sheet for all recipes, review exercises and glossaries of key terminology with definitions.
Laboratory Conduct and Responsibilities.

Sanitation and Safety.

The Food Preparation Process.

The Cooking Process.

Standardized Recipes and Measurement.

Enlarging Recipes.

Costing Recipes.

Measuring Temperatures.

Stocks and Soups.

Thickening Agents.

Sauces.

Vegetables.

Rice.

Pasta.

Fish and Seafood.

Poultry and Game Birds.

Meat.

Eggs.

Salads.

Salad Dressings.

Yeast Breads.

Quick Breads.

Indexes.