Fundamentals of Psycholinguistics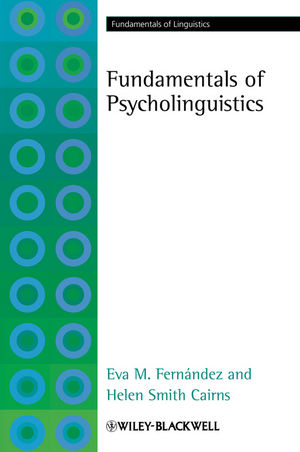 Fundamentals of Psycholinguistics
ISBN: 978-1-118-29678-3 March 2012 Wiley-Blackwell 336 Pages
Description
Introducing the fundamental issues in psycholinguistics, this book explores the amazing story of the unconscious processes that take place when humans use language. It is an ideal text for undergraduates taking a first course in the study of language.
Topics covered include the biological foundations of language; acquisition of first and second languages in children and adults; the mental lexicon; and speech production, perception, and processing
Structured as an engaging narrative that takes the reader from an idea in the mind of a speaker to its comprehension in the mind of the hearer
Reflects the latest empirical developments in psycholinguistics, and is illustrated throughout with examples from bilingual as well as monolingual language processing, second language acquisition, and sign languages
Student-friendly features include chapter-by-chapter study questions and discussion summaries; the appendix offers an excellent overview of experimental designs in psycholinguistics, and prepares students for their own research
Written by an internationally-regarded author team, drawing on forty years of experience in teaching psycholinguistics
List of Figures.
List of Tables.
Prologue.
1. Beginning Concepts.
2. The Nature of Linguistic Competence.
3. The Biological Basis of Language.
4. The Acquisition of Language.
5. The Speaker: Producing Speech.
6. The Hearer: Speech Perception and Lexical Access.
7. The Hearer: Structural Processing.
8. Remembering Sentences, Processing Discourse, and Having Conversations.
Epilogue. Appendix: Experimental Designs in Psycholinguistics.
References.
Name Index.
Subject Index.
"It provides a wide-ranging, clearly written and organised introduction to many aspects of the field of psycholinguistics. It also encourages the reader to consider partaking in experimental psycholinguistics as much as theoretical study." (Linguist, 15 June 2011)
"The strengths of the book are many: its attention to monolingual and bilingual contexts, its clear explanation of methodology and its selection of key illustrated studies." (Times Higher Education Supplement, 4 November 2010)
"It is an ideal text for undergraduates taking a first course in the study of language." (Forbes.com, 2 November 2010)
Exploring the fundamental issues in psycholinguistics, this is an ideal text for those seeking a linguistically-oriented yet balanced introduction to the study of language
Topics covered include the biological foundations of language; acquisition of first and second languages in children and adults; the mental lexicon; and speech production, perception, and processing
Structured as an engaging narrative that takes the reader from an idea in the mind of a speaker to its comprehension in the mind of the hearer
Reflects the latest empirical developments in psycholinguistics, and is illustrated throughout with examples from bilingual as well as monolingual language processing, second language acquisition, and sign languages
Student-friendly features include chapter-by-chapter study questions and discussion summaries; the appendix offers an excellent overview of experimental designs in psycholinguistics, and prepares students for their own research
Written by an internationally-regarded author team, drawing on forty years of experience in teaching psycholinguistics