Fundamentals of Semiconductor Fabrication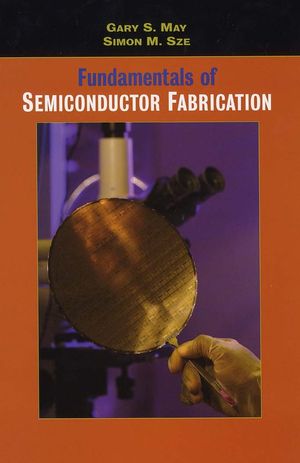 Fundamentals of Semiconductor Fabrication
ISBN: 978-0-471-23279-7
Apr 2003
320 pages
Description
Fundamentals of Semiconductor Fabrication provides an introduction to semiconductor fabrication technology, from crystal growth to integrated devices and circuits. It includes theoretical and practical aspects of all major fabrication steps, making it a useful reference tool when students enter the semiconductor industry. Each chapter begins with an introduction and a list of learning goals, and each chapter ends with a summary of important concepts and suggested homework problems.
Chapter 1. Introduction.
Chapter 2. Crystal Growth.
Chapter 3. Silicon Oxidation.
Chapter 4. Photolithography.
Chapter 5. Etching.
Chapter 6. Diffusion.
Chapter 7. Ion Implantation.
Chapter 8. Film Deposition.
Chapter 9. Process Integration.
Chapter 10. IC Manufacturing.
Chapter 11. Future Trends and Challenges.
Appendix A: List of Symbols.
Appendix B: International System of Units (SI Units).
Appendix C: Unit Prefixes.
Appendix D: Greek Alphabet.
Appendix E: Physical Constants.
Appendix F: Properties of Si and GaAs at 300 K.
Appendix G: Some Properties of the Error Function.
Appendix H: Basic Kinetic Theory of Gases.
Appendix I: SUPREM Commands.
Appendix J: Running PROLITH.
Appendix K. Percentage Points of the t Distribution.
Appendix L: Percentage Points of the F Distribution.
Index.
Computer Modeling & Simulation tools integrated throughout.
Practical aspects of IC fabrication allow students to make connections with the lab or industrial environment.
Process simulation provides instructors with a tool for ?what if? analysis and discussion.
Comprehensive coverage of process sequences helps instructors connect individual steps into a cohesive whole.
Unique chapter on packaging.