Fundamentals of Structural Integrity: Damage Tolerant Design and Nondestructive Evaluation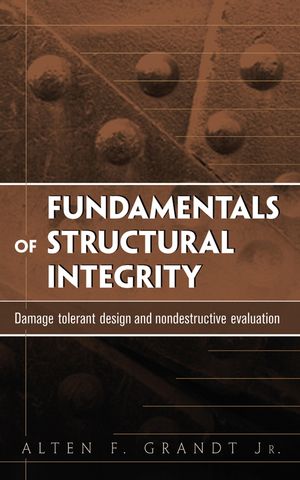 Fundamentals of Structural Integrity: Damage Tolerant Design and Nondestructive Evaluation
ISBN: 978-0-471-21459-5 November 2003 560 Pages
Description
Discusses applications of failures and evaluation techniques to a variety of industries.
* Presents a unified approach using two key elements of structural design.
Cannot be combined with any other offers.
Original Price:$335.00
Purchased together:$251.25
save $83.75
Table of contents
Preface.
I. INTRODUCTION.
1. Introduction.
2. Review of Preliminary Concepts.
3. Introduction to Linear Elastic Fracture Mechanics.
4. Nondestructive Evaluation.
DAMAGE TOLERANCE ANALYSIS.
5. Crack Tip Plasticity.
6. Fracture and Residual Strength.
7. Fatigue Crack Growth.
8. Stress Intensity Factor Analysis.
9. Service-Induced Damage.
NONDESTRUCTIVE EVALUATION.
10. Visual and Liquid Penetrant Inspections.
11. Radiographic Inspections. 
12. Ultrasonic Inspection.
13. Eddy Current Inspection.
14. Magnetic Particle Inspection.
15. Other Inspection Methods.
APPLICATIONS.
16. Design Considerations.
17. Structural Integrity of Aging Systems.
18. Concluding Remarks.
Appendix. AFGROW User's Guide.
Index.
Features
In-depth discussions of crack tip plasticity issues and fatigue crack growth
Methods for obtaining stress intensity factor solutions
Procedures for anticipating service-induced fatigue and corrosion damage
In-depth presentations of all major nondestructive inspection techniques
Coverage of inspection intervals and residual strength
U.S. Air Force AFGROW life prediction software included on the associated CD
Supplements:
The book will include a CD containing the software AFGROW developed for analysis of airframe designs by the US Airforce.