Fundraising Consultants: A Guide for Nonprofit Organizations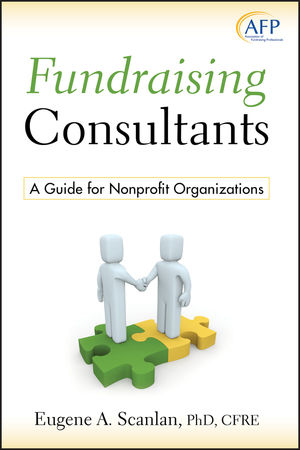 Fundraising Consultants: A Guide for Nonprofit Organizations
ISBN: 978-1-118-38685-9
Mar 2012
210 pages
Description
Praise for Fundraising Consultants
""In Fundraising Consultants: A Guide for Nonprofit Organizations, Gene Scanlan provides a thoughtful and deliberative guide for how to select, develop, and maintain successful relationships with consultants that can help organizations achieve their goals. It is also an excellent resource for consultants, both new and experienced, on how to best serve our clients.""
Barbara L. Ciconte, CFRE, Senior Vice President, Consulting Services
Donor Strategies, Inc.
""Finally, a book that provides a balanced and informative perspective about fundraising consulting. Gene provides solid information for organizations to consider when using a consultant while also describing the consultant's point of view. All this can only lead to a more effective use of consultants and more successful nonprofits.""
Sandra Renner, MSW, CFRE, Renner Consulting
Strategic Philanthropic Counsel
""This book is an excellent source for a development or foundation director to read before hiring any type of consultant. It guides you through the search process and tells you how to evaluate your prospects. This is especially important for small development offices or foundations that rely on outsourcing fundraising projects or campaigns to consultants. It even suggests how to use consultants as a creative resource!""
Jeanne G. Jacob, CAE, CFRE, Executive Director
Goodwin House Foundation
Acknowledgments.
About the Author.
Introduction.
Chapter 1. No, We Don't Need A Consultant!
Summary.
Chapter 2. Yes, We Really Need A Consultant!
Summary.
Chapter 3. What Should We Do First?
Step One. Know Your Organization.
Step Two. Identify Your Organization's Real Needs.
The Next Internal Steps.
Some Possible Alternative Arrangements.
Summary.
Chapter 4. The Request for Proposal – A Short Introduction.
RFPs: The Written External RFP.
RFPs: The Written Internal RFP.
RFPs: The Unwritten Consensus RFP.
RFPs: Advantages of The Internal RFP and RFP Contents.
Summary.
Chapter 5. Finding Consultants – Where Are They?
They're Everywhere, They're Everywhere!
Using Your Own Organization as a Source.
Asking Other Organizations.
Using Workshops, Seminars and Conferences as Sources.
Professional Organizations as Sources.
Professional Organizations of Consultants as Sources.
Using The Internet.
Summary.
Chapter 6. Information, Please!
Three Ways to Find Consultants: A Quick Review.
Using The Consultant's Web Site or Printed Materials.
Using Examples of the Consultant's Work.
Reference Checks As Critical Sources.
Using Informal Contacts With Colleagues.
Using Colleagues Active in Professional Associations.
Using An Online Search Engine.
Summary.
Chapter 7. The Proposal For Services.
Overview of Proposals.
Objectives of Proposals.
A Sample Proposal Outline.
Analyzing the Proposal's Content.
Who Does What.
Confidentiality.
Fee and Expense Structures in Proposals.
Timelines.
Who Will Deliver The Services.
Reviewing and Editing Materials.
Registration and Contract Filing Issues.
Legal or Ethical Disclosure.
Solicitor Registration.
Product/Outcome Definition.
Seeking a Revised Proposal and Negotiating.
Summary.
Chapter 8. The Interview.
Overview of Interviews.
Focus of Pre-Proposal Interviews.
Focus of Post-Proposal Interviews.
Alternate Interview Methods.
Summary.
Chapter 9. Selection and The Contract.
Importance of Group Process.
Contract Preparation Alternatives.
Contents of Consultant-Prepared Contracts.
Review of Contracts by Attorneys.
Summary.
Chapter 10. Working With Your Consultant.
Keeping Focused on the Project.
Consulting Partnerships.
The Staff Trap.
The First Day and First Steps.
Materials for Review.
Sharing Unwritten Information.
Working Arrangements.
Timelines and Meeting Review.
Procedures Defined.
Defining a Process for Written Materials Review.
The Case.
Letter of Invitation to Prospective Interviewees.
Interview Questionnaire.
Campaign Materials.
Policies and Procedures.
Meeting Materials.
Training Materials.
Prospecting Materials.
Other Written Materials.
Consultants As Creative Resources.
Events.
General Advice and Counsel
Some General Considerations.
Keeping The Consultant Informed.
Planning and Scheduling.
Meetings and Conference Calls.
Your Consultant's Other Skills.
Dealing With Issues.
Payment Issues.
Some Background Points.
Summary.
Chapter 11. Wrap Up and After.
The Consultant Always Leaves.
Delivering the Report and Recommendations.
What's Next?
When Nothing Happens.
Ensuring Follow Through.
End of Campaign Debriefings.
Summary.
Chapter 12. Conclusions.
Some Final Thoughts.
Who Gets the Credit?
The Best Fundraising Consultants.
Additional Selected Readings.
AFP Code of Ethics for Professional Philanthropic Fundraisers.
Donor Bill of Rights.
Index.