Fundraising Success Set (The Five Strategies for Fundraising Success & Ten Steps to Fundraising Success)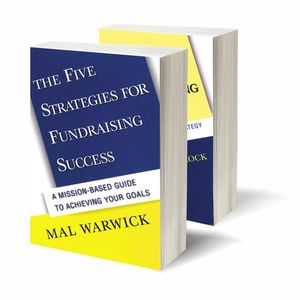 Fundraising Success Set (The Five Strategies for Fundraising Success & Ten Steps to Fundraising Success)
ISBN: 978-0-787-96433-7 February 2002 Jossey-Bass 300 Pages
Description
Set is made up of:
ISBN 0787949949 / 9780787949945 - The Five Strategies for Fundraising Success: A Mission-Based Guide to Achieving Your Goals
ISBN 0787956740 / 9780787956745 - Ten Steps to Fundraising Success: Choosing the Right Strategy for Your Organization
Table of contents
Set is made up of:
ISBN 0787949949 / 9780787949945 - The Five Strategies for Fundraising Success: A Mission-Based Guide to Achieving Your Goals

Part One: The Five Fundraising Strategies.
1. Growth.
2. Involvement.
3. Visibility.
4. Efficiency.
5. Stability.
6. How the Five Strategies Work in the Real World.
Part Two: Choosing the Right Fundraising Strategy for Your Organization.
7. Getting a Fix on Your Organization's Vision.
8. Translating Vision into Goals.
9. Matching Goals to Fundraising Strategy.
10. Setting Achievable Objectives.
11. Exploring the Future with Scenario Planning.
Part Three: Making Your Fundraising Strategy Work: Tactics and Techniques.
12. How Much Should Fundraising Cost.
13. The Costs and Benefits of Fundraising Tactics.
14. Choosing the Right Fundraising Tools for Your Organization.
15. Evaluating Your Success: The 10 Benchmarks of Successful Fundraising.
16. How Much Are Your Donors Worth.
17. Are You Investing in the Future?

ISBN 0787956740 / 9780787956745 - Ten Steps to Fundraising Success: Choosing the Right Strategy for Your Organization

Figure, Tables, and Exercises.
Acknowledgments.
About the Authors.
Introduction: Before You Take Your First Step.
Step One: Assess Your Organization's Current Fundraising Efforts.
Step Two: Assess the Fundraising Strengths and Weaknesses of Your Board Members and Staff.
Step Three: Assemble the Team to Select the Best Fundraising Strategy.
Step Four: Weigh the Costs and Benefits of the Five Strategies for Fundraising Success.
Step Five: Choose the Fundraising Strategy That's Right for Your Organization's Mission.
Step Six: Set Fundraising Goals That Support Your Fundraising Strategy.
Step Seven: Turn Fundraising Goals into Achievable Objectives.
Step Eight: Choose the Right Tactics for Your Fundraising Strategy and Goals.
Step Nine: Create a Master Calendar and Keep on Track.
Step Ten: Measure Your Organization's Progress.
Glossary of Key Terms.
How to Use the CD-ROM.