Fundraising When Money Is Tight: A Strategic and Practical Guide to Surviving Tough Times and Thriving in the Future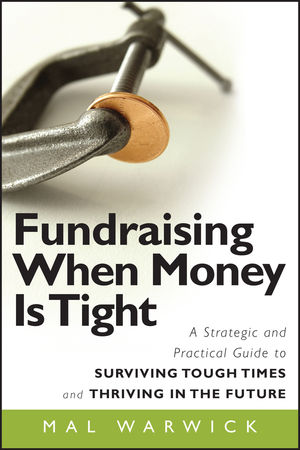 Fundraising When Money Is Tight: A Strategic and Practical Guide to Surviving Tough Times and Thriving in the Future
ISBN: 978-0-470-49473-8 March 2009 Jossey-Bass 256 Pages
Description
A Nonprofit Survival Kit for Hard Times

""This is a must-read for all of us in fundraising. Mal Warwick includes practical approaches for difficult economic times, from zero-based thinking about our programs to strategies for relating to our donors and making certain our fundraising programs are prepared to succeed not only now but when the economy recovers.""
—Eugene R. Tempel, president, Indiana University Foundation

""Brilliant! No nonprofit organization can afford to ignore the insightful advice Mal Warwick offers in this concise and eminently readable book. It's practical, down-to-earth, and addresses the complex, real-world challenges of raising money in tough times.""
—Ben Jealous, president, NAACP

""Fundraising When Money Is Tight is an important book in a difficult time for all. This is the right book for anyone who is committed to advancing the public good.""
—Jane Wales, founder, Global Philanthropy Forum, and vice president, Aspen Institute

""This is a must-read book by any fundraising manager. It's timely, it's a good read, and the moment I put it down I made sure my managers got focused, got real, and got with the project today.""
—Mark Astarita, director of fundraising, British Red Cross

""Mal Warwick will leave you with a focusing framework and dozens of practical, immediately actionable how-tos. It is hard to imagine anyone in the citizen sector who will not breathe easier after reading this book.""
—Bill Drayton, CEO, Ashoka, and chair, Youth Venture
Preface-Who Should Read This Book.
Acknowledgments.
About the Author.
Introduction-When Bad Things Happen to Good Causes.
PART ONE: WHY YOU REALLY OUGHT TO MAKE CHANGES IN YOUR FUNDRAISING PROGRAM.
1. What History Teaches Us.
2. A Proven Way to Anticipate the Future.
3. Three Scenarios for Economic Recovery.
4. Three Possible Fundraising Strategies.
5. Identify a Winning Strategy.
PART TWO: HOW YOU CAN FACE THE PRESENT MORE CALMLY AND THE FUTURE WITH CONFIDENCE.
6. Reassess the Whole Ball of Wax: Fundraising, Marketing, Communications.
7. Strengthen Your Case for Giving.
8. Be Content with One in the Hand? Forget the Two That May Be in the Bush.
9. Cut Costs with a Scalpel, Not an Ax.
10. Fish Where the Big Fish Are.
11. Stay Close to Your Donors.
12. Get Personal with Your Donors.
13. Step Up Your Efforts Online.
14. Break Down the Silos.
15. Summary: Nine Practical Steps Toward Peace of Mind.
Reading List.
Index.