Fundraising with Businesses: 40 New (and Improved!) Strategies for Nonprofits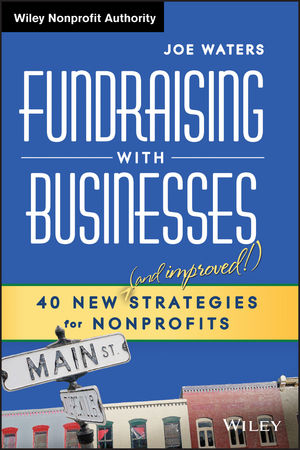 Fundraising with Businesses: 40 New (and Improved!) Strategies for Nonprofits
ISBN: 978-1-118-61572-0 November 2013 304 Pages
Description
40 proven strategies for raising big money with businesses
There's a reason why nonprofits are getting smaller checks from corporate giving programs. Companies are abandoning or slashing giving budgets and instead focusing on win-win pacts that drive sales and change the world. Nonprofits need guidance and practical know-how in this new age of mutually beneficial nonprofit and business partnerships. 
Presenting forty practical fundraising strategies to help small to medium-sized nonprofits raise more money from businesses, Fundraising with Businesses breathes new life into nonprofit / for-profit relationships to begin a new era of doing good and well.
Presents new and improved fundraising strategies for raising money from businesses—from in-store register promotions and shopping fundraisers to online workplace giving solutions and digital campaigns involving popular social networking sites.
Written by an experienced fundraiser and renowned blogger and speaker on business giving.  
Features case examples of successful nonprofit/corporate partnerships that will be regularly updated via a link with the online pin board Pinterest. 
The fundraising potential of working with businesses is greater than ever. Read Fundraising with Businesses and discover the tools to turn existing and new business relationships into successful—and lucrative—partnerships.
Table of contents
Preface ix
Acknowledgments xix
1 Percentage-of-Sales Fundraiser 1
2 Register Fundraiser 7
3 Donation Box Fundraiser 13
4 Hashtag Fundraiser 19
5 Shopping Fundraiser 27
6 Action-Triggered Fundraiser 33
7 Pin-to-Give Fundraiser 39
8 Text-to-Give Fundraiser 45
9 Cash Donation 53
10 Product Donation 59
11 Company Giveaway Fundraiser 67
12 New Hire Fundraiser 73
13 Cause Product Fundraiser 77
14 Office Pool Fundraiser 83
15 Pinup Fundraiser 91
16 Facebook Likes Fundraiser 101
17 Check-in to Give Fundraiser 107
18 Payroll Deduction 113
19 Sports Team Fundraiser 119
20 Scan-to-Give Fundraiser 127
21 Shop-Walk Fundraiser 135
22 Collection Drive 141
23 Trade Show Fundraiser 147
24 Dress-Down/Up Fundraiser 153
25 Movie Theater Fundraiser 159
26 Facebook Contest Fundraiser 165
27 Donate-Profits Day Fundraiser 171
28 Buy One Give One Fundraiser 177
29 Matching Gifts 183
30 Round-up Fundraiser 191
31 In-Store Fundraiser 197
32 Halopreneurs 203
33 Signature Cause Product Fundraiser 211
34 Launch Fundraiser 217
35 Building Fundraiser 223
36 Dollars for Doers 229
37 Special Occasion Fundraiser 235
38 Coupon Book Fundraiser 243
39 Watch-to-Give Fundraiser 247
40 Business-to-Business Fundraiser 253
41 Fundraising with Businesses: Seven Steps to Success 259
About the Author 271
Index 273