Fundraising with The Raiser's Edge: A Non-Technical Guide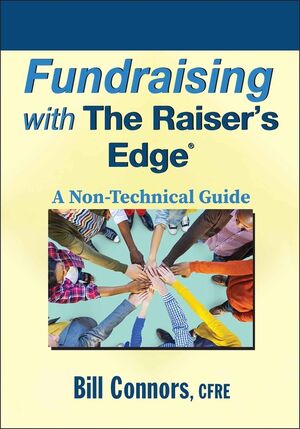 Fundraising with The Raiser's Edge: A Non-Technical Guide
ISBN: 978-0-470-56056-3 March 2010 288 Pages
Description
A non-technical guide to The Raiser's Edge-the most widely-used fundraising database package on the market-for the fundraising professional
The first-ever guide to The Raiser's Edge database package for the fundraising professional, Fundraising with The Raiser's Edge: A Non-Technical Guide educates your nonprofit about what The Raiser's Edge can do for you and will help you more effectively work with the staff who are responsible for data entry and output.
Helps your organization get much greater return on The Raiser's Edge, and use it to raise more money more effectively and with less stress
Contains specific and clear direction on the key areas you should know without technical discussion
Includes numerous checklists to give you practical takeaways
Providing you with the non-technical details you need to know to recruit, manage and retain quality database personnel, Fundraising with The Raiser's Edge: A Non-Technical Guide will help you in your day-to-day fundraising work without needing to become a database expert.
Acknowledgments.
About the Author.
Introduction.
CHAPTER 1 Organizing Fundraising.
Getting Started with The Raiser's Edge.
Accessing Campaign, Fund, and Appeal Records.
Defining Campaign, Fund, and Appeal.
Funds.
Appeals.
Campaigns.
Other Considerations.
Summary.
Note.
CHAPTER 2 Prospects, Donors, and Other Constituents.
Who Should Be Recorded in The Raiser's Edge.
Who Should Be a Constituent.
Constituent Tabs.
Constituent Tabs for Optional Modules.
Tools for Fundraisers.
Summary.
CHAPTER 3 Gifts and Giving.
Gift Types.
Gift Tabs and Concepts.
Functionality by Gift Type.
Adjustments.
Constituent Giving Totals.
Understanding Gift Processing.
Summary.
CHAPTER 4 Direct Marketing and Other Mailings.
Four Steps.
Step 1. Output Format.
Step 2. Recipients.
Step 3. Fields.
Step 4. Field Content.
The Mailing Process.
Staff Training.
Reporting.
Putting This Together.
Summary.
CHAPTER 5 Events and Membership.
Events and Membership in Context.
Events.
Membership.
Summary.
CHAPTER 6 Major Gifts and Grants.
Basic Major Gifts Fundraising Tools.
The Life Cycle of a Major Gifts Donor in The Raiser's Edge.
Protecting Your Prospects.
Major Gifts Process Reports.
A Word to Corporate and Foundation Fundraisers.
Making It Happen.
Summary.
Note.
CHAPTER 7 Reporting, Lists, and Other Output.
Output Tools.
Dashboards and Reports to Run.
Event, Membership, and Volunteer Reports.
Custom Reports.
Summary.
CHAPTER 8 Database Oversight.
Development or IT?
Database Administrator Roles and Responsibilities.
Hiring.
Retention.
Version 8 of The Raiser's Edge.
Summary.
Conclusion.
APPENDIX A Converting to and Implementing The Raiser's Edge.
Purchase Process.
Project Participant Training.
Project Planning.
Conversion and Business Process Development.
Custom Reports and Customizations.
Final Push for Go-Live.
After Go-Live.
APPENDIX B Database Administrator Task List.
Technical Oversight.
User Oversight.
Data Oversight.
Summary.
APPENDIX C Policy and Procedure Documentation Example: Generating Direct Mail File.
Criteria for Include Query.
Criteria for Exclude Query.
Merge Query Results.
Parameters for Export Files.
Uploading Data.
Marking Appeals and Packages on Constituent Records.
Bibliography.
Index.
"The book has a simple premise: If you are smart enough to be a professional fund raiser, you're smart enough to learn to properly use the software. Connors' work has a 3-fold purpose: to enable the professional to work with database staff to meet objectives with the least possible confusion and stress; to familiarize the professional with the parts of the database that it is necessary to master, in order to best utilize it; and, finally, to enable the organization's staff to set up, maintain, and maximize the database's usefulness. The fact that Connors meets these objectives in a concise and readable manner makes this book a "must-have" for every professional fundraiser." (SanFranciscoBookReview, June 2010)