GI Epidemiology: Diseases and Clinical Methodology, 2nd Edition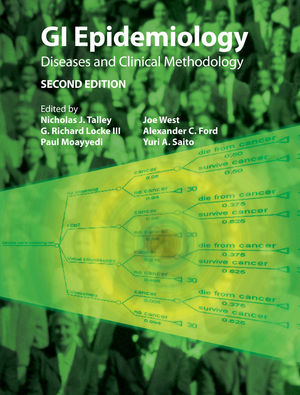 GI Epidemiology: Diseases and Clinical Methodology, 2nd Edition
ISBN: 978-0-470-67257-0 March 2014 Wiley-Blackwell 430 Pages
Description
Identifying how, why and in whom gastrointestinal disease occurs, and what can be done to prevent it, is of key importance for the modern-day gastroenterologist and researcher.
Brought to you by the world's leading gastroenterologists, the second edition of GI Epidemiology: Diseases and Clinical Methodology is the only book that combines detailed analysis of the epidemiology of GI disease with a study of the methodology of clinical research.
With a much greater clinical focus on the diagnostic and management approach for each disease than
before, all existing chapters are fully updated with the very latest in statistical and clinical data. In addition, the revised edition contains several significant improvements, notably:
• Five extra disease epidemiology chapters: Upper GI Bleeding; Hepatitis B and C; Common Tropical GI
Diseases; Nutritional Epidemiology and GI Cancers; and Obesity among Adults
• More illustrations, including maps of each disease
• A more international focus with the inclusion of two experienced European editors
• MCQs, summary checklists and key points throughout
• Ten extra online-only chapters on methodological issues related to GI epidemiology such as Patient reported
GI Epidemiology: Diseases and Clinical Methodology, 2nd Edition is the perfect reference tool for gastroenterologists involved in both patient management and clinical research, and also for epidemiologists involved specifically in GI disease data and more general epidemiological studies.
Titles of Related Interest
Yamada's Handbook of Gastroenterology, 3rd Edition
Yamada; ISBN 9780470656204
Essentials of Gastroenterology
Friedman; ISBN 9780470656259
Contributors, viii
Foreword, xiv
Preface, xv
About the companion website, xvi
Part 1: Gastrointestinal Diseases and Disorders: The Public Health Perspective
1 The Burden of Gastrointestinal and Liver Disease Around the World, 3
Hannah P. Kim, Seth D. Crockett, & Nicholas J. Shaheen
Part 2: How to Critically Read the Gastrointestinal Epidemiology Literature
Introduction and Overview, 17
Joe West
2 How to Read a Cohort Study, 18
Laila J. Tata
3 How to Read a Case-Control Study, 30
Joe West, Laila J. Tata, & Timothy R. Card
4 How to Read a Randomized Controlled Clinical Trial, 39
Matthew J. Grainge
5 How to Read a Systematic Review and Meta-Analysis, 48
Alexander C. Ford & Paul Moayyedi
6 How to Decide if Any of This Matters, 58
Kate M. Fleming & Timothy R. Card
Part 3: How to Do Clinical Research in GI
7 How to Develop and Validate a GI Questionnaire, 67
Enrique Rey & G. Richard Locke III
8 How to Do Population-Based Studies and Survey Research, 75
Sanjiv Mahadeva & Hematram Yadav
9 How to Find and Apply Large Databases for Epidemiologic Research, 83
Jonas F. Ludvigsson, Joe West, Jessica A. Davila, Timothy R. Card, & Hashem B. El-Serag
10 How to Do Genetic and Molecular Epidemiologic Research, 98
Yuri A. Saito
11 Diagnostic Studies, 106
Paul Moayyedi
12 Randomized Controlled Trials, 113
Paul Moayyedi & Richard H. Hunt
Part 4: Epidemiology of Major GI Diseases
13 Epidemiology of GERD, Barrett's Esophagus and Esophageal Cancer, 121
David Armstrong
14 Epidemiology of Helicobacter Pylori Infection, Peptic Ulcer Disease and
Gastric Cancer, 135
Grigorios I. Leontiadis & Olof Nyr´en

15 Epidemiology of Dyspepsia, 158
Alexander C. Ford & Nicholas J. Talley
16 Epidemiology of Upper Gastrointestinal Bleeding, 172
Colin J. Crooks, Joseph Sung, & Timothy R. Card
17 Epidemiology of Celiac Disease, 185
Alberto Rubio-Tapia, Jonas F. Ludvigsson, & Joseph A. Murray
18 Measuring Utilization of Endoscopy in Clinical Practice, 196
Frances Tse & Alan Barkun
19 Epidemiology of Colorectal Carcinoma, 213
Harminder Singh, Joselito M. Montalban, & Salaheddin Mahmud
20 Epidemiology of Irritable Bowel Syndrome, 222
Rok Seon Choung & Yuri A. Saito
21 Epidemiology of Constipation, 235
Brian E. Lacy & John M. Levenick
22 Epidemiology of Diverticular Disease, 249
Robin Spiller & David Humes
23 Epidemiology of Infectious Diarrhea, 262
Christina M. Surawicz & Crenguta Stepan
24 Epidemiology of Inflammatory Bowel Disease, 273
Edward V. Loftus, Jr.
25 Epidemiology of Fecal Incontinence, 285
Adil E. Bharucha
26 Epidemiology of Gallstones and Biliary Tract Cancers, 296
Guy D. Eslick & Eldon A. Shaffer
27 Epidemiology of Pancreatitis, 306
Dhiraj Yadav, Santhi Swaroop Vege, & Suresh T. Chari
28 Epidemiology of Pancreatic Cancer, 313
Aravind Sugumar & Santhi Swaroop Vege
29 Epidemiology of Hepatitis B and C in the United States, 322
Sumeet K. Asrani & W. Ray Kim
30 Epidemiology of Alcoholic Liver Disease, 332
Sumeet K. Asrani & William Sanchez
31 Epidemiology of Cirrhosis and Hepatocellular Carcinoma, 344
Joe West & Guruprasad P. Aithal
32 Epidemiology of Nonalcoholic Fatty Liver Disease (NAFLD), 357
Guruprasad P. Aithal, Kshaunish Das, & Abhijit Chowdhury
33 Epidemiology of Common Tropical GI Diseases, 373
Magnus Halland, Rodney Givney, & Anne Duggan
34 Nutritional Epidemiology and GI Cancers, 383
Linda E. Kelemen & Ilona Csizmadi
35 The Epidemiology of Obesity Among Adults, 394
Cynthia L. Ogden, Brian K. Kit, Tala H.I. Fakhouri, Margaret D. Carroll, & Katherine M. Flegal
Index 405
"With the exception of minor quibbles, this book represents the best and most up up-to-date summary of GI epidemiology currently available."  (Gastroenterology, 1 October 2014)