GIMP Bible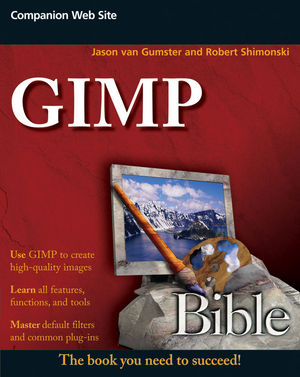 GIMP Bible
ISBN: 978-0-470-52397-1
Mar 2010
722 pages
Description
The ultimate reference and guide to the GNU image manipulation program
GIMP is a free, Photoshop-like image manipulation program, and as its use grows, so does the demand for detailed instruction on how to get the very most out of it. GIMP Bible is the most comprehensive and current independent GIMP reference available that goes beyond official documentation.
If you're a digital artist or photographer, the step-by-step explanations in this authoritative guide show you how to power-use GIMP throughout a production pipeline. Topics include understanding the GIMP interface and how to work with it, how to use all of GIMP's tools to create high-quality images, GIMP's default filters and plug-ins, advanced techniques for customization with Python and Scheme scripting, and much more.
GIMP (GNU Image Manipulation Program) is a free graphics editor that runs on Linux, Windows, or Macs; it is used to process digital graphics and photographs including creating graphics and logos, resizing and cropping photos, altering colors, combining images, creating basic GIF animated images, and more
Whether you're a digital artist, professional photographer, or beginner, this detailed how-to shows you best practices, valuable techniques, and helpful tips for getting the most out of GIMP for your projects
Topics include the GIMP interface and how to work with it, in-depth description of GIMP's tools and how to use them to create high-quality images, a comprehensive reference for all of GIMP's default filters and common plug-ins, and advanced customization with Python and Scheme scripting
Get the most out of this free image editing tool for your production pipeline with the GIMP Bible.

Note: CD-ROM/DVD and other supplementary materials are not included as part of eBook file.
Introduction.
Part I: Meet GIMP.
Chapter 1: What Is GIMP?
Chapter 2: Thinking Digitally.
Part II: Getting Started.
Chapter 3: Working with Files.
Chapter 4: A Brief Overview of GIMP's Tools.
Chapter 5: Taking Advantage of Paths.
Chapter 6: Working with Layers and Masks.
Chapter 7: Using Channels.
Part III: Manipulating Images.
Chapter 8: Transforming Images.
Chapter 9: Adjusting Colors.
Chapter 10: Working with Text.
Chapter 11: Painting in GIMP.
Chapter 12: Enhancing Photos.
Part IV: Exploring Filters and Effects.
Chapter 13: Implementing Blur, Enhancement, and Distortion Filters.
Chapter 14: Using Image Creation Filters.
Chapter 15: Using Compositing Filters.
Chapter 16: Enhancing Images with Artistic Filters.
Chapter 17: Working with Specialized Filters.
Chapter 18: Batch Processing with Automating Filters.
Chapter 19: Using GIMP Animation Package.
Chapter 20: Working with Video-Specific Functions in GIMP.
Part V: Advanced Topics.
Chapter 21: Finding and Installing Plug-ins.
Chapter 22: Creating Custom Effects with Scripting.
Part VI: Appendices.
Appendix A: Downloading and Installing GIMP.
Appendix B: Setting Up External Input Devices.
Appendix C: Customizing GIMP.
Appendix D: Additional Resources.
Appendix E: What's on the Web Site.
Index.