GKN: The Making of a Business, 1759 - 2009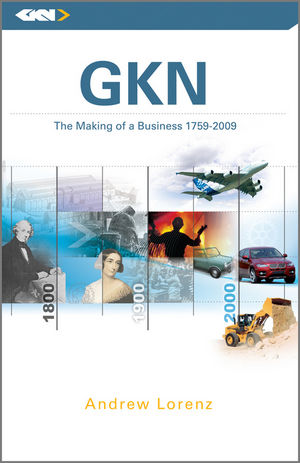 GKN: The Making of a Business, 1759 - 2009
ISBN: 978-0-470-74953-1
Nov 2009
392 pages
Product not available for purchase
Description
The company that became GKN was forged in the first fires of the Industrial Revolution. And through the two-and-a-half centuries of its remarkable life, GKN has proved a master of Industrial Evolution. From a single blast furnace fuelling a tiny iron works on a remote Welsh hillside, GKN was built by a group of men – and one woman – into a world leader. Not just once or twice, but many times, it has changed shape and direction to hold its place at the forefront of the engineering industry.

When iron gave birth to the worldwide railway boom in the early 1800s, GKN was there. It was among the first to seize the opportunities created when steel superseded iron in the 1860s. After the First World War, GKN moved into the 20th century's greatest new industry – automotive. Late in the century, when aerospace began to be transformed by the use of new materials, GKN was at the leading edge.

Geographically too, the company has evolved. As the balance of economic growth has shifted, from Britain in the eighteenth and early nineteenth centuries to America, continental Western Europe and Japan in the 20th and on to the emerging powers of Asia, Latin America and Eastern Europe in the 21st century, the group has moved with it and frequently ahead of it. Today, the businesses that comprise GKN reach from the US to the eastern shores of Japan, from northern China and India to South Africa, Latin America and Australia. GKN is a truly global corporate citizen.

This is its remarkable story.
foreword by the chairman.
acknowledgments.
Chapter 1 Iron Menandan Iron Lady.
Chapter 2 World Leader.
Chapter 3 The Steel Age.
Chapter 4 Keen , Guest and Nettlefolds.
Chapter 5 The Empire - Builder from Merthyr.
Chapter 6 Depression and Rearmament.
Chapter 7 The Fight for Steel.
Chapter 8 Metal Bashing.
Chapter 9 Constant Velocity.
Chapter 10 White Heat and Cold Comfort.
Chapter 11 Crossroads.
Chapter 12 In Face of Strife.
Chapter 13 Farewell to a Hot Forger.
Chapter 14 A Pallet Pool Is Born.
Chapter 15 Shot Down.
Chapter 16 On the Front Line.
Chapter 17 Baptism of Fire.
Chapter 18 Transformation.
Chapter 19 The Japanese Connection.
Chapter 20 An Era Ends.
Chapter 21 A Stake in Westland.
Chapter 22 Reformation.
Chapter 23 Lift-off.
Chapter 24 Courtroom Battle.
Chapter 25 Acquisition Drive.
Chapter26 Parting of the Ways.
Chapter 27 Rumpor Fillet.
Chapter 28 Moving South , Driving East.
Chapter 29 The Ultimate Challenge.
conclusion.
select bibliography.
index.