GPS For Dummies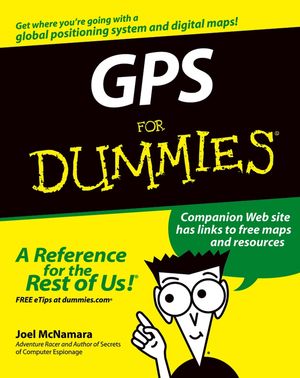 GPS For Dummies
ISBN: 978-0-764-57758-1 May 2004 400 Pages
Description
GPS For Dummies gives new meaning to finding yourself. In fact, with a GPS (global positioning system) receiver, you can determine precisely where you are anywhere on this planet. If you're are planning on buying a GPS receiver or if you have one and want to get your money's worth, this guide tells you what you need to know, including:

Basic GPS principles and concepts such as waypoints, routes, tracks, and coordinate systems
Recommended features for GPS receivers to be used in various types of activities, including hiking, mountain biking, cross country skiing, geocaching, hunting, ATVing, mapping, and more
How to do digital mapping on your computer, including software packages you can use to work with aerial photos, topographic maps, and road maps
The main providers of digital map data for the U.S. and their Web sites
The scoop on geocaching—a high-tech treasure hunt
Written by Joel McNamara, avid outdoorsman, adventure racer, search and rescue team member, and author of Secrets of Computer Espionage, GPS for Dummies is ideal for both ordinary travelers and exotic explorers. It covers a world of GPS info such as:
Choosing features for a GPS receiver, including the screen, an alarm, built-in maps, an electric compass, an altimeter, antennas, interface modes, and more
Systems for traveling on the main roads and systems for exploring off the beaten path
Using GPS with a PDA (personal digital assistant)
Computer requirements for different mapping choices
Topographic map software from Maptech, DeLorme, and National Geographic that's for off-road use
Using Web-hosted mapping services, including street maps, topographic maps, aerial photos, and U.S. government-produced maps
Incorporating GPS receivers into outdoor workouts, with tips for specific sports including cycling, golf, rowing, and more
A companion Web site has links to all kinds of free maps and resources. So explore on your computer and then explore for real! With GPS for Dummies, you'll find yourself having adventures!
Introduction.
Part I: All About Digital Maps.
Chapter 1: Getting Started with Digital Maps.
Chapter 2: Dissecting Maps.
Part II: All About GPS.
Chapter 3: GPS Fundamentals.
Chapter 4: Grasping Important GPS Concepts.
Chapter 5: Selecting and Getting Started with a GPS Receiver.
Chapter 6: Using GPS with a PDA.
Chapter 7: Geocaching.
Part III: Digital Mapping on Your Computer.
Chapter 8: Digital Mapping Hardware Considerations.
Chapter 9: Interfacing a GPS Receiver to a Computer.
Chapter 10: Using GPS Manufacturer Mapping Software.
Chapter 11: Finding Places and Coordinates.
Chapter 12: On the Road with DeLorme Street Atlas USA.
Chapter 13: On the Ground with Maptech Terrain Navigator.
Chapter 14: From the Air with USAPhotoMaps.
Chapter 15: Creating and Using Digital Maps with OziExplorer.
Chapter 16: Going Three Dimensional with 3DEM.
Part IV: Using Web-hosted Mapping Services.
Chapter 17: Saving and Editing Street Maps.
Chapter 18: Navigating Web Road Maps.
Chapter 19: Exploring Web Topographic Maps.1
Chapter 20: Overhead Image Web Sites.
Part V: The Part of Tens.
Chapter 21: Ten Great GPS and Map Web Sites.
Chapter 22: Ten Map Printing Tips.
Chapter 23: Ten Tips for Athletes.
Index.
"at over 350 pages you can be sure to find the answers to most of your questions!" (Boat Mart, July 2007)