GSM/EDGE: Evolution and Performance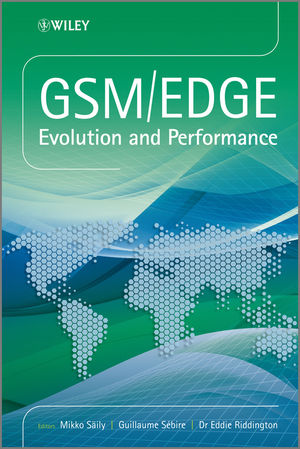 GSM/EDGE: Evolution and Performance
ISBN: 978-0-470-74685-1
Nov 2010
504 pages
Description
With over four billion subscribers Worldwide, GSM/EDGE is by far the World's most successful communications technology of all time. Ubiquitous, deployed in every country of the World, except in Japan and South Korea, GSM/EDGE is the result of a continued evolution that has spanned over two decades.

A leading team of experts from Nokia, Nokia Siemens Networks and Instituto Nokia de Tecnologia, guide you from the history of GSM standardization to the cutting-edge techniques in the latest 3GPP releases. Covering 3GPP Release 7 and Release 8, and addressing their motivation and detailing their concepts, this book also offers insights into further steps in evolution from Release 9 and beyond.

GSM/EDGE: Evolution and Performance allows you to keep apace with all of the new developments that have occurred in 3GPP on the GSM standard since the introduction of EDGE:
Covers all the key aspects of GSM/EDGE Evolution from Release 7 until Release 9 in a systematic manner.
Features performance evaluations derived from leading-edge simulation tools and field trials.
Addresses network optimization techniques and environmental aspects.
Written by leading experts in the field of GSM/EDGE evolution and standardisation.
Contributors from Nokia, NSN, Helsinki University of Technology and Instituto Nokia de Tecnologia.
Acknowledgements.
Acronyms.
PART I GSM/EDGE STANDARDIZATION.
1 GSM Standardization History (Guillaume Sebire).
1.1 Introduction.
1.2 History.
1.3 Phase 1.
1.4 Phase 2.
1.5 Phase 2+.
References.
2 3GPP Release 7 (Eddie Riddington, David Navratil, Jurgen Hofmann, Kent Pedersen and Guillaume Sebire).
2.1 Introduction.
2.2 EGPRS2.
2.3 Downlink Dual Carrier.
2.4 Mobile Station Receiver Diversity.
2.5 Latency Reductions.
References.
3 3GPP Release 8 (Jurgen Hofmann, Vlora Rexhepi-van der Pol, Guillaume Sebire and Sergio Parolari).
3.1 Introduction.
3.2 Interworking with LTE.
3.3 A Interface over IP.
3.4 Multi-Carrier BTS (MCBTS).
References.
4 3GPP Release 9 and Beyond (Jurgen Hofmann, Eddie Riddington, Vlora Rexhepi-van der Pol, Sergio Parolari, Guillaume Sebire and Mikko Saily).
4.1 Introduction.
4.2 Voice Evolution.
4.3 Data Evolution.
4.4 H(e)NB Enhancements.
4.5 Security Improvements.
4.6 Local Call Local Switch.
References.
PART II GSM/EDGE PERFORMANCE.
5 Fundamentals of GSM Performance Evaluation (Mikko Saily, Rauli Jarvel¨a, Eduardo Zacarias B. and Jari Hulkkonen).
5.1 Introduction.
5.2 On the GSM Radio System Performance Engineering.
5.3 Simulation Tools.
5.4 Key Performance Indicators.
5.5 EFL Methodology.
5.6 Further Reading.
References.
6 EGPRS2 and Downlink Dual Carrier Performance (Mikko Saily, Kolio Ivanov, Khairul Hasan, Michal Hronec, Carsten Ball, Robert M¨ullner, Renato Iida, Hubert Winkler, Rafael Paiva, Kurt Kremnitzer, Rauli Jarvela, Alexandre Loureiro, Fernando Tavares and Guillaume Sebire).
6.1 Introduction.
6.2 Overview of GSM Data Performance Evolution.
6.3 EGPRS2 Link Performance.
6.4 EGPRS2 System Performance.
6.5 Downlink Dual Carrier Performance.
6.6 DTM performance.
6.7 GSM Data Evolution Performance Summary.
References.
7 Control Channel Performance (Eddie Riddington and Khairul Hasan).
7.1 Introduction.
7.2 Repeated SACCH.
7.3 Repeated Downlink FACCH.
References.
8 Orthogonal Sub-Channels with AMR/DARP (Mikko Saily, Jari Hulkkonen, Kent Pedersen, Carsten Juncker, Rafael Paiva, Renato Iida, Olli Piirainen, Seelan Sundaralingam, Alexandre Loureiro, Jon Helt-Hansen, Robson Domingos and Fernando Tavares).
8.1 Introduction.
8.2 Overview of GSM Voice Evolution.
8.3 AMR and SAIC Performance.
8.4 OSC and VAMOS Performance.
8.5 Conclusion.
References.
9 Wideband AMR Performance (Robert Mullner, Carsten Ball, Kolio Ivanov, Markus Mummert, Hubert Winkler and Kurt Kremnitzer).
9.1 Overview.
9.2 Introduction.
9.3 Audio Bandwidth Extension for More Natural Sounding Speech.
9.4 End-User's Quality Perception by Listening Tests.
9.5 Impact of AMR-WB on Network Planning.
9.6 Network Quality and Capacity Advantage of AMR-WB over AMR-NB.
9.7 Conclusion.
References.
10 DFCA and Other Advanced Interference Management Techniques (Sebastian Lasek, Krystian Majchrowicz and Krystian Krysmalski).
10.1 Introduction.
10.2 Frequency Hopping Basics.
10.3 Intra-Site Interference Management.
10.4 Inter-Site and Intra-Site Interference Management.
10.5 Dynamic Frequency and Channel Allocation.
References.
11 Advanced Admission and Quality Control Techniques (Sebastian Lasek, Krystian Krysmalski, Dariusz Tomeczko and Sebastian Lysiak).
11.1 Introduction.
11.2 Quality of Service Management.
11.3 Admission Control.
11.4 Quality Control.
11.5 Performance of the QoS-aware GERAN Networks.
11.6 Enhanced GERAN Performance towards Conversational Services.
References.
12 Capacity Enhancements for GSM (Kolio Ivanov, Carsten Ball, Robert M¨ullner, Hubert Winkler, Kurt Kremnitzer, David Gallegos, Jari Hulkkonen, Krystian Majchrowicz, Sebastian Lasek and Marcin Grygiel).
12.1 Introduction.
12.2 Progressive Power Control for AMR.
12.3 Temporary Overpower.
12.4 Handover Signaling Optimization.
12.5 Separate Radio Link Timeout Value for AMR.
12.6 AMR HR to AMR FR Handover Optimization.
12.7 Service Dependent Channel Allocation.
12.8 Advanced Abis Solutions.
References.
13 Green GSM: Environmentally Friendly Solutions (Sebastian Lasek, Krystian Krysmalski, Dariusz Tomeczko, Andrzej Maciolek, Grzegorz Lehmann, Piotr Grzybowski, Alessandra Celin and Cristina Gangai).
13.1 Introduction.
13.2 Energy Optimized Network Design.
13.3 Coverage Improvement Techniques.
13.4 Capacity Improvement Techniques.
13.5 Energy Savings through Software Solutions.
13.6 Energy-Efficient BTS Site.
13.7 Renewable Energy Sources.
13.8 Energy Savings for Controllers and Transcoders.
References.
PART III EXTENDING THE GSM PARADIGM.
14 GSM in Multimode Networks (Jurgen Hofmann).
14.1 Introduction.
14.2 Standardization of MSR Base Station for Multimode Networks.
14.3 Status in Regulatory Bodies.
14.4 Use of MSR Base Stations in Multimode Networks.
References.
15 Generic Access Network: Extending the GSM Paradigm (Juha Karvinen and Guillaume Sebire).
15.1 Introduction.
15.2 Drivers for Convergence.
15.3 GAN Architecture.
15.4 GAN Management Functionality.
15.5 Mobility Features in GAN.
15.6 Voice Service over GAN.
15.7 Supplementary Services and SMS over GAN.
15.8 Packet Switched Data (GPRS) over GAN.
15.9 Emergency Call Support in GAN.
15.10 GAN in 3GPP Releases.
15.11 Implementation Aspects for a GAN-enabled Device.
15.12 Considerations for GAN Deployment.
References.
Index.