Game Play: Therapeutic Use of Childhood Games, 2nd Edition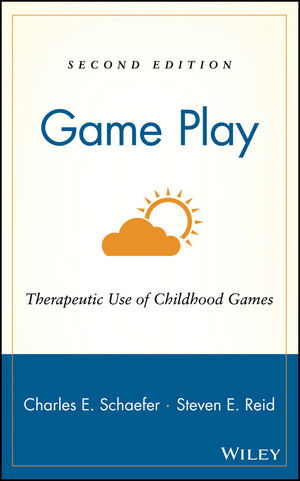 Game Play: Therapeutic Use of Childhood Games, 2nd Edition
ISBN: 978-0-471-43733-8
Mar 2004
416 pages
Description
The long-awaited revision of the only book on game play available for mental health professionals

Not only is play a pleasurable, naturally occurring behavior found in humans, it is also a driving force in our development. As opposed to the unstructured play often utilized in psychotherapy, game playing invokes more goal-directed behavior, carries the benefits of interpersonal interaction, and can perform a significant role in the adaptation to one's environment.

This landmark, updated edition of Game Play explores the advantages of using games in clinical- and school-based therapeutic interventions with children and adolescents. This unique book shows how playing games can promote socialization, encourage the development of identity and self-esteem, and help individuals master anxiety-while setting the stage for deeper therapeutic intervention in subsequent sessions.

Game Play
Therapeutic Use of Childhood Games
Second Edition

Features:
* New chapters on games in family therapy and games for specific disorders
* Techniques and strategies for using game play to enhance communication, guidance, and relationships with clients
* The different types of therapeutic games, elaborating on their various clinical applications
The Psychology of Play and Games (S. Reid).

GAMES TO ELICIT COMMUNICATION AND FANTASY EXPRESSION.

Using the Imagine Game as a Projective Technique (H. Burks).

The Feeling Word Game (E. Cron).

The Talking, Feeling, Doing Game (R. Gardner).

USING TRADITIONAL GAMES IN CHILD THERAPY.

The Use of Competitive Games in Play Therapy (I. Berlin).

Therapeutic Uses of Fine Motor Games (J. Bow & F. Quinell).

Therapeutic Use of Card Games with Learning-Disabled Children (S. Reid).

GAME PLAY FOR CHILDREN IN CRISIS.

Lifegames: Games Children Play When Life is Not a Game (I. Streng).

My Game: Rebuilding Hope for Children In Placement (R. Kagan).

The Use of the Goodbye Game with Bereaved Children (E. Netel-Gilman, et al.).

Therapeutic Games for Children of Divorce (Y. Epstein & H. Rosenberg).

Using Games and Game Play in Group Therapy with Sexually Abused Children and Adolescents (B. Corder).

THERAPEUTIC GAMES FOR CHILDREN WITH ADHD.

The Use of the Stop, Relax and Think Game with ADHD Children (R. Bridges).

Biofeedback Racing Car Game for Children with ADHD (H. Kaduson).

Using Games to Improve Self-Control Problems in Children (A. Swanson & B. Casarjian).

TEACHING SOCIAL SKILLS THROUGH GAMES.

Teaching Social Skills: A Board Game Approach (C. LeCroy & J. Archer).

Game Play Therapy for Antisocial Adolescents (M. Mitlin).

Prescribing Games to Reduce Aggression in Children (A. Bay-Hinitz).
""...an interesting and constructive reference book for social workers, psychologists, play therapists and other professionals..."" (Jnl of Clinical Child Psychology and Psychiatry, Vol 8(1))