Games At Work: How to Recognize and Reduce Office Politics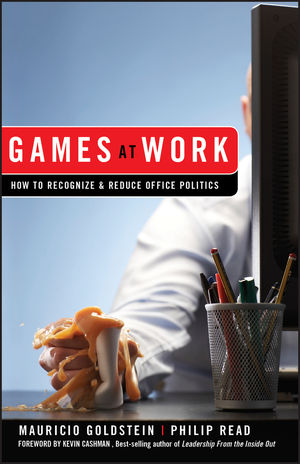 Games At Work: How to Recognize and Reduce Office Politics
ISBN: 978-0-470-26200-9 April 2009 Jossey-Bass 256 Pages
Description
AS LONG AS PEOPLE HAVE WORKED together, they have engaged in political games. Motivated by short-term gains—promotions, funding for a project, budget increases, status with the boss—people misuse their time and energy. Today, when many organizations are fighting for their lives and scarce resources there is increased stress and anxiety, and employees are engaging in games more intensely than ever before.
Organizational experts Mauricio Goldstein and Philip Read argue that office games—those manipulative behaviors that distract employees from achieving their mission—are both conscious and unconscious. They can and should be effectively minimized. In Games at Work, the authors offer tools to diagnose the most common games that people play and outline a three-step process to effectively deal with them. Some of the games they explore include:
GOTCHA: identifying and communicating others' mistakes in an effort to win points from higher-ups
GOSSIP: engaging in the classic rumor mill to gain political advantage
SANDBAGGING: purposely low-balling sales forecasts as a negotiating ploy
GRAY ZONE: deliberately fostering ambiguity or lack of clarity about who should do what to avoid accountability
Filled with real-world, entertaining examples of games in action, Games at Work is an invaluable resource for managers and all professionals who want to substitute straight talk for games in their organizations and boost productivity, commitment, innovation, and—ultimately—the bottom line.
Buy Both and Save 25%!
Original Price:$52.90
Purchased together:$39.68
save $13.22
Cannot be combined with any other offers.
Foreword ix
Kevin Cashman
Introduction 1
1 LET THE GAMES BEGIN
What Games Are and How They Are Played in Organizations 11
2 PLAYING TO LOSE
The Negative Impact of Games on Core Business Activities 46
3 FERTILE GROUND
Why Games Are So Pervasive in Modern Corporations 65
4 EYES WIDE SHUT
Why People Don't Deal with Games at Work 83
5 AN EYE-OPENING EXPERIENCE
Awakening to Games 95
6 COUNT ME OUT
Choosing Not to Play 108
7 GAME, INTERRUPTED
Executing Your Choice 125
8 INTERCONNECTIONS
How Games Are Linked In to an Ecology 147
9 THE CHALLENGE OF CHANGE
Toward a Games-Conscious Model of Transformation 164
10 GAMES AT THE TOP
The Impact of Playing in the Executive Suite 179
11 A SUSTAINABLE GOAL
Transforming Organizations in Small but Significant Ways 198
Appendix: List of Games 206
References 224
Acknowledgments 226
About the Authors 228
Index 230
"There's nothing funny about mind games in the workplace, say the authors of this sober-minded guide to understanding underhanded office maneuvers. Simply waking up to games people play and rejecting them is a big part of the battle for executives, say the authors."
—Andrea Sachs, TIME magazine, April 30, 2009