Games At Work: How to Recognize and Reduce Office Politics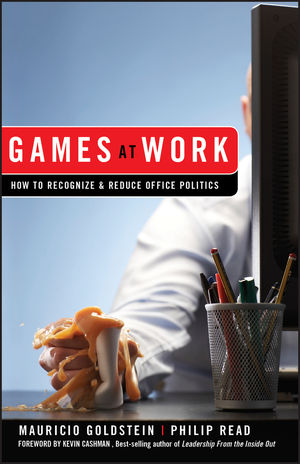 Games At Work: How to Recognize and Reduce Office Politics
ISBN: 978-0-470-45883-9
Mar 2009, Jossey-Bass
256 pages
Description
"A terrific read not only for senior leaders and executives but also for employees seeking growth in complex organizations. Goldstein and Read dissect the interpersonal dynamics that affect a company's performance, provide a framework to understand the games that are commonly played in businesses around the world, and offer practical tools to correct these behaviors and improve the organization's effectiveness."
—Jacopo Bracco, executive vice president, DIRECTV Latin America

"Whether you are an employee, manager, or CEO, this book will help you uncover the games that are going on around you and in your organization and will arm you with strategies to combat the negative effects of these games."
—Corey J. Seitz, vice president, global talent management, Johnson & Johnson

"This book is a good warning sign for organizational life. A road map of potholes and wrong turns. Written in a clear and down-to-earth way, its strength is its concreteness."
—Peter Block, author, Community: The Structure of Belonging

"Play or don't play, your choice. But if you need to manage and aspire to lead, you must read Goldstein and Read's helpful treatment of the games going on all around you all the time. Prepare to be entertained and disconcerted in equal measure."
—Seán Meehan, Martin Hilti Professor of Marketing and Change Management, IMD

"Goldstein and Read provide an accessible and penetrating discussion of the twenty-two most common games at work and their individual and organizational causes, business costs, and remedies. Every working person who has ever been a victim or perpetrator of political games will profit from reading Games at Work."
—Harvey A. Hornstein, emeritus professor of psychology; former director of Columbia University Organizational Development Programs; and organizational consultant
Foreword (Kevin Cashman).
Introduction.
1 LET THE GAMES BEGIN.
What Games Are and How They Are Played in Organizations.
2 PLAYING TO LOSE.
The Negative Impact of Games on Core Business Activities.
3 FERTILE GROUND.
Why Games Are So Pervasive in Modern Corporations.
4 EYES WIDE SHUT.
Why People Don't Deal with Games at Work.
5 AN EYE-OPENING EXPERIENCE.
Awakening to Games.
6 COUNT ME OUT.
Choosing Not to Play.
7 GAME, INTERRUPTED.
Executing Your Choice.
8 INTERCONNECTIONS.
How Games Are Linked In to an Ecology.
9 THE CHALLENGE OF CHANGE.
Toward a Games-Conscious Model of Transformation.
10 GAMES AT THE TOP.
The Impact of Playing in the Executive Suite.
11 A SUSTAINABLE GOAL.
Transforming Organizations in Small but Signifi cant Ways.
Appendix: List of Games.
References.
Acknowledgments.
About the Authors.
Index.
"There's nothing funny about mind games in the workplace, say the authors of this sober-minded guide to understanding underhanded office maneuvers. Simply waking up to games people play and rejecting them is a big part of the battle for executives, say the authors."
—Andrea Sachs, TIME magazine, April 30, 2009