Games for Business and Economics, 2nd Edition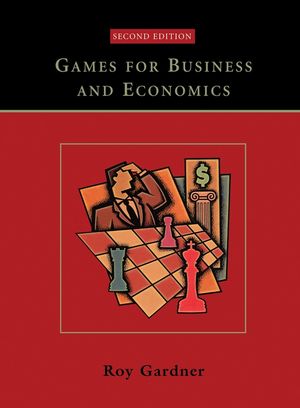 Games for Business and Economics, 2nd Edition
ISBN: 978-0-471-23071-7
Jan 2003
464 pages
Description
This innovative book shows students how to set up and solve games, particularly those in economics and business, using game theory. Gardner's unique approach helps students develop strong modeling skills by using proven applications and examples of setups. The book also features a variety of examples, including many from business, politics, economics, and history.
Preface.
About the Author.
PART ONE: BASIC GAME THEORY.
An Introduction to Games and Their Theory.
Games of Chance.
Nash Equilibrium for Two-Person Games.
Mixed Strategies and Mixed Strategy Nash Equilibrium.
n-Person Games in Normal Form.
Noncooperative Market Games In Normal Form.
PART TWO: GAMES WITH SEQUENTIAL STRUCTURE.
Credibility and Subgame Perfect Equilibrium.
Repeated Games.
Evolutionary Stability and Bounded Rationality.
PART THREE: GAMES WITH IMPERFECT INFORMATION.
Signaling, Screening, and Sequential Equilibrium.
Games Between A Principal and an Agent.
Auctions.
PART FOUR: GAMES INVOLVING BARGAINING.
Two-Person Bargains.
n-Persons Bargaining and the Core.
PART FIVE: GAMES, MARKETING, AND POLITICS.
Two-Sided Markets And Matching Games.
Voting Games.
Index.
Reduced coverage of calculus makes content accessible to a larger audience without sacrificing essential subject matter.
An entirely new chapter on chance in games involves a tour of the gaming and entertainment industry in the United States.
Topics include examples from recent popular media events such as the Enron Corporation and the film A Beautiful Mind.
Highly accessible and engaging content.
Teaches theories through the use of creative examples before they are taught as models and applications.