Games of Strategy, 4th Edition, International Student Edition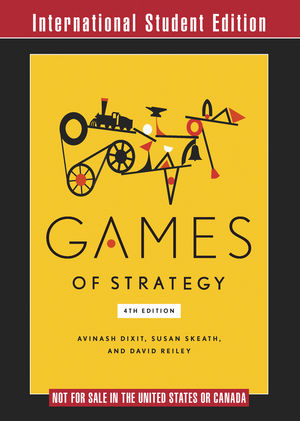 Games of Strategy, 4th Edition, International Student Edition
ISBN: 978-0-393-92075-8
*Norton agency titles
700 pages
Product not available for purchase
Description
The most accessible game theory text brings game theory to the masses.

A clear, comprehensive introduction to the study of game theory. In the Fourth Edition, new real-world examples and compelling end-of-chapter exercises engage students with game theory.
Part One: Introduction and General Principles
1. Basic Ideas and Examples
2. How to Think about Strategic Games
Part Two: Concepts and Techniques
3. Games with Sequential Moves
4. Simultaneous-Move Games with Pure Strategies
5. Simultaneous-Move Games with Pure Strategies, II
6. Combining Sequential and Simultaneous Moves
7. Simultaneous-Move Games with Mixed Strategies
Part Three: Some Broad Classes of Games and Strategies
8. Uncertainty and Information
9. Strategic Moves
10. The Prisoner's Dilemma and Repeated Games
11. Collective-Action Games
12. Evolutionary Games
Part Four: Applications to Specific Strategic Situations
13. Mechanism Design
14. Brinkmanship: The Cuban Missile Crisis
15. Strategy and Voting
16. Bidding Strategy and Auction Design
17. Bargaining
THOROUGHLY UPDATED TO REFLECT THE LATEST RESEARCH
This major revision includes expanded and updated coverage of Cheap Talk (Chapter 8), Information (Chapter 9), Repeated Games (Chapter 11), Collective Action (Chapter 12), and Incentives (Chapter 14).
NEW MATERIAL ON BEHAVIORAL AND EXPERIMENTAL ECONOMICS
The Fourth Edition includes expanded coverage of Behavioral Economics and Experimental Economics in Chapters 3, 4, 5, and 7.
END-OF-CHAPTER EXERCISES, SOLVED AND UNSOLVED, ALLOW STUDENTS TO MASTER THE MOVES AND COUNTERMOVES OF GAME THEORY
The authors have increased the number of end-of-chapter exercises in the Fourth Edition. The solutions to half of the exercises are available for students on a free accompanying website.
LIVELY AND RELEVANT EXAMPLES AND CASES
As in successful previous editions of Games of Strategy, the Fourth Edition draws from popular culture, television, sports, history, politics, business, science, and student life for case studies that bring game theory to life.