GarageBand For Dummies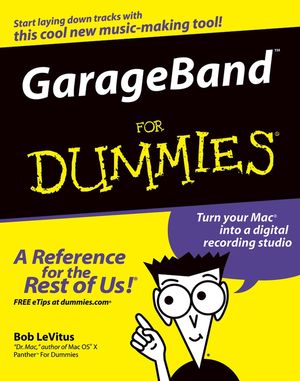 GarageBand For Dummies
ISBN: 978-0-764-57750-5
Aug 2004
334 pages
Description
Get ready to rock with Apple's digital music recording studio

Find out how to record, edit, mix, and master like a pro!

Are you the next big thing in music - but the world just doesn't know it yet? Here's the guide that will help you create great-sounding recordings with GarageBand. Packed with useful information on setting up a digital studio, laying down tracks, working with loops, playing with MIDI and software instruments, and mixing tracks, the only thing this book doesn't provide you with is . . . a recording contract!

The Dummies Way
* Explanations in plain English
* "Get in, get out" information
* Icons and other navigational aids
* Tear-out cheat sheet
* Top ten lists
* A dash of humor and fun


Discover how to:
* Decide what gear you'll need
* Optimize your room for recording
* Mix vocals, instruments, and loops into a song
* Improve recordings with editing and effects
* Create CDs, movie scores, and more using other iLife applications
Introduction.
Part I: Starting on a Good Note.
Chapter 1: In the Beginning: Introducing GarageBand.
Chapter 2: Equipment and Setting Up Your Recording Space.
Chapter 3: GarageBand Preferences: How Do You Like Yours?
Chapter 4: Introducing Multitrack Recording with GarageBand.
Part II: Laying Down Tracks.
Chapter 5: It (Usually) Starts with a Loop.
Chapter 6: Recording with MIDI and Software Instruments.
Chapter 7: Recording Vocals and Acoustic Instruments.
Chapter 8: Recording Electric Guitars and Other Electronic Instruments.
Part III: Post-Production: Finishing Your Song.
Chapter 9: Editing and Polishing Tracks.
Chapter 10: Mixing Tracts into Songs.
Chapter 11: To Master Mastering.
Part IV: Sharing Your Creation with Others.
Chapter 12: CD Recording, Reproduction, and Distribution.
Chapter 13: Creating Smaller Audio Files for iPods, E-Mail, and the Web.
Chapter 14: Using GarageBand Recordings with Other iLife Applications.
Part V: The Parts of Ten.
Chapter 15: Ten Handy GarageBand Add-Ons.
Chapter 16: Ten Ways to Improve GarageBand's Performance.
Chapter 17: Ten Ways to Take Your Recordings to the Next Level.
Chapter 18: Ten Useful Web Sites.
Index.