Gardening For Dummies, Pocket Edition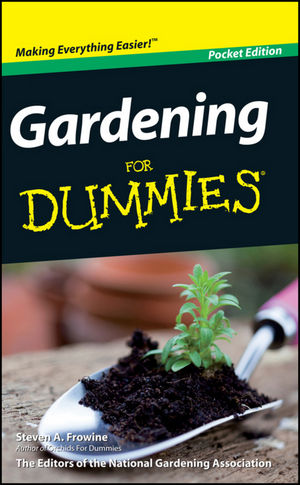 Gardening For Dummies, Pocket Edition
ISBN: 978-1-118-04284-7 December 2010 144 Pages
Download Product Flyer
Download Product Flyer
Download Product Flyer is to download PDF in new tab. This is a dummy description. Download Product Flyer is to download PDF in new tab. This is a dummy description. Download Product Flyer is to download PDF in new tab. This is a dummy description. Download Product Flyer is to download PDF in new tab. This is a dummy description.
Description
Put down roots with the basics of gardening!
Don't know your Hosta undulata from your Bellis perennis? Leaf through this fun and easy reference to learn all about gardening! First, find your gardening style and plan the garden you want while staying within a budget, then check out explanations of all those mysterious zones. Still curious? Grab all the right gear and pick out the right plants for you. You'll be growing your own annuals, perennials, and vegetables before you can say Lychnis coronaria!
Open the book and find:
Guidance on planning your garden

Explanations of hardiness and frost zones

Descriptions of proper gear

The differences between annuals and perennials

Tips for growing vegetables

Information on what you need to keep your plants happy
Table of contents
Introduction
.
About This Book.
Conventions Used in This Book.
What You're Not to Read.
Foolish Assumptions.
Icons Used in This Book.
Where to Go from Here.
Chapter 1: Getting Ready for Gardening.
Playing the Name Game.
"Hello, my name is...": Getting used to plant nomenclature.
Anatomy 101: Naming plant parts.
Bringing in Beauty with Flowers.
Amazing annuals.
Perennial plants.
Gardening for Your Dining Pleasure.
Chapter 2: Planning Your Own Eden.
Taking Stock: Evaluating What You Already Have.
Identifying problems and restrictions.
Taking advantage of your yard's assets.
Getting Ideas for Your Garden Space.
Gardening with the kids in mind.
Creating space for entertainment.
Designing a sanctuary: The quiet garden retreat.
Cooking up an edible garden: Gardening for your kitchen.
Zeroing In on Your Ideal Garden Style.
Gardening around a theme.
An inspired idea: Perusing books, magazines, and local gardens.
Making Sure Costs Don't Outgrow Your Budget.
Bringing Your Garden Ideas to Reality.
Sketching out the yard you have now.
Making your drawing match your dream garden.
Defining key areas so you know where to start.
Chapter 3: Getting into the Zone — Your Garden's Zone.
Different Hardiness Zone Maps for Different Folks.
Taking a look at plant hardiness zone maps.
Warming up to the heat-zone map.
Savoring the Sunset zones.
Reading plant hardiness zone maps.
Fathoming Frost Zones and Growing Seasons.
Chapter 4: Gathering Your Gardening Gear.
Digging Those, Er, Digging Tools.
Getting down with shovels and spades.
Trowels: More than just little shovels.
Garden forks: Not for dining!.
Clues to Quality Cultivating Tools.
Ho, ho, hoes.
Weeding out poor weeders to get to the best.
Getting a Handle on Hand Pruners.
Wading through Wondrous Watering Tools.
Hoses.
Nozzles.
Hose-end sprinklers.
Water timers.
Chapter 5: Growing Annuals and Perennials.
Finding Annuals that Fit Your Garden.
Some like it hot: Warm weather annuals.
Some annuals like it cool.
Buying Annuals.
Starting with seed packets.
Starting with nursery, well, starts.
An Annual Event: The Whens, Wheres, and Hows of Planting.
Filling in the garden after the last frost.
Deciding where to plant annuals.
Getting annuals in the ground.
Looking at Perennials, the Repeat Performers.
Hardy perennials.
Tender perennials.
Finding and Buying Perennials.
To the market: Getting perennials in containers.
Buying perennials through mail-order.
Acquiring free divisions.
Planting Perennials.
Figuring out where to plant perennials.
Deciding when to plant perennials.
Preparing for the actual planting.
Chapter 6: Food, Glorious Food! Growing Your Own Veggies.
Varieties of Veggies.
Growing vegetables by seasons.
Defining hybrids.
Appreciating heirlooms.
Getting Your Vegetable Garden Ready.
Sketching out your plan.
Working with the sun: Where to plant vegetables.
Using planting patterns and systems.
Prepping your soil.
Finding Your Vegetables.
Buying seeds.
Buying nursery transplants.
Planting Your Vegetables.
Deciding when to plant your veggies.
Sowing and planting your veggies.
Chapter 7: Live Long and Prosper: Giving Plants What They Need.
Let There Be Light!.
Facing the Fertilizer Facts.
Compost: More than Just a Fertilizer.
Demystifying Soil pH.
Finding out your soil's pH.
Adjusting your soil's pH.
Much Ado about Mulch.
Knowing your mulches.
How to apply mulch.
Tackling Watering Issues.
Providing plants with the right amount of moisture.
Determining which watering system to use.
Cutting back on watering.
Dealing with drainage problems.