Garfinkel and Ethnomethodology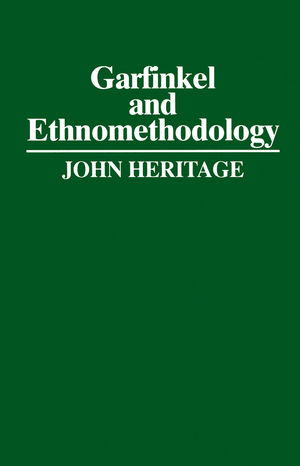 Garfinkel and Ethnomethodology
ISBN: 978-0-745-66719-5 April 2013 Polity 344 Pages
Description
The writings of Harold Garfinkel have had a major impact on the social sciences and linguistics. This book offers a systematic and innovative analysis of his theories and of the ethnomethodological movement which he has inspired.
It is the only full-length study focused on the writings of Harold Garfinkel and will be essential reading for all those concerned with understanding and evaluating one of the most radically original social scientists of recent times.
Table of contents
Preface.
1 Introduction.
2 A Parsonian Backdrop.
3 The Phenomenological Input.
4 The Morality of Cognition.
5 Actions, Rules and Contexts.
6 Accounts and Accountings.
7 Maintaining Institutional Realities.
8 Conversation Analysis.
9 Epilogue: An Uncompleted Quest.
Appendix.
Bibliography.
Index
Reviews
'A... comprehensive overview and critique of ethnomethodologically informed conversation analysis is now available in coherent and accessible form.'
Contemporary Sociology
'... This is an excellent collection which attempts to explore fundamental features of social analysis... The arguments presented have profound implications for the analysis of classroom interaction and other features of the educational world.' Language and Education

'It is to John Heritage's great credit that he has sifted the wheat from the chaff. He has given us a clear exposition of the intellectual antecedents of Garfinkel's work-notably Husserl, Schutz, and Mannheim-and of its affinities with Wittgenstein and ordinary language philosophy. He has amply illustrated aspects of Garfinkel's own work and in particular has shown how conversation analysis, which is particularly indebted to the research of the late Harvey Sacks, has become a prominent form of ethnomethodological work. The book is well-organized and clearly written.' John Eldridge, Times Higher Education Supplement

'Scholarly, accurate, timely…a comprehensive overview and critique of ethnomethodologically informed conversation analysis is now available in coherent and accessible form.' Contemporary Sociology