Gaseous Pollutants: Characterization and Cycling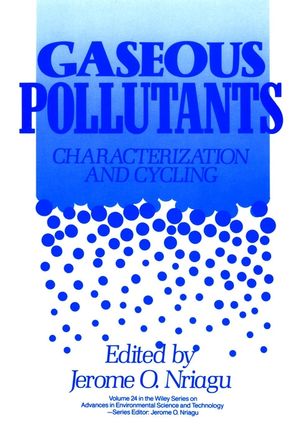 Gaseous Pollutants: Characterization and Cycling
ISBN: 978-0-471-54898-0
Mar 1992
560 pages
Description
Focuses not only on various methods of sampling and analyzing gaseous pollutants in the atmosphere but also emphasizes an understanding of the chemical and physical processes that occur. Evaluates current measurement methods; reports on the results of recent research; and surveys the challenges that lie ahead. Of particular interest is an expert overview of the sources, occurrences and characteristics of volatile organic compounds in indoor environments--a growing public health concern.
Henry's Law Constants of Soluble and Moderately Soluble Organic Gases: Effects on Aqueous Phase Chemistry (E. Betterton).

Sampling and Analysis for Ambient Oxides of Nitrogen and Related Species (J. Sickles).

The Application of Denuder Systems to the Analysis of Atmospheric Components (J. Slanina, et al.).

Gas Phase Organics in the Marine Atmosphere (J. Marty & E. Jalliffier-Merlon).

Atmospheric Distribution and Sources of Nonmethane Hydrocarbons (H. Singh & P. Zimmerman).

The Chemistry of Atmospheric Hydrogen Peroxide in Southern California (H. Sakugawa & I. Kaplan).

Air Pollution by Gaseous Pollutants in Athens, Greece (L. Viras & P. Siskos).

Chemical Mechanisms and Process Parameters of Flue Gas Cleaning by Electron Beam (H. Matzing & H.-R.

Paur).

Volatile Organics in the Indoor Environment: Sources and Occurrence (R. Otson & P. Fellin).

Thoron and Its Progeny in the Atmospheric Environment (S. Schery & D. Grumm).

Advanced Methods for the Evolution of Atmospheric Pollutants Relevant to Photochemical Smog and Dry Acid Deposition (P. Ciccioli & A. Cecinato).

Index.