Gastrointestinal Endoscopy in the Cancer Patient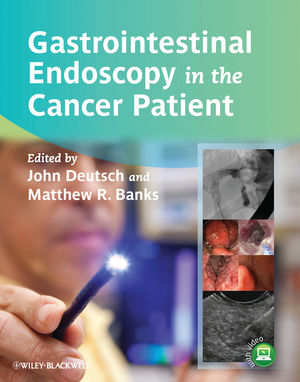 Gastrointestinal Endoscopy in the Cancer Patient
ISBN: 978-1-118-55565-1
Feb 2013, Wiley-Blackwell
400 pages
Description
Are you involved in the diagnosis and management of patients with gastrointestinal cancer
Gastrointestinal Endoscopy in the Cancer Patient provides you with a full color, highly clinical, multi-media tool focused on the role diagnostic and therapeutic endoscopy plays in the management of patients with cancer.
With chapters authored by the world's leading endoscopy and oncology experts and edited by a highly experienced editor team, you'll find a level of clinical excellence that is unsurpassed in other books on this topic. 
Covering GI cancer from both the perspective of the gastroenterologist and the oncologist, it contains approximately 400 quality color images and 21 high-definition videos showing endoscopy being performed by the experts.
Conveniently split into sections for each part of the GI tract, including the esophagus, stomach, upper GI, lower GI, pancreas and liver/biliary system, each section follows a consistent structure of:
Diagnosis and Staging of premalignant and malignant conditions
Endoscopic management of premalignant and early malignant diseases
Palliation of advanced tumors
Oncologist's perspective
Gastrointestinal Endoscopy in the Cancer Patient is a must-have purchase and perfect consultation and learning tool for all gastroenterologists, endoscopists, GI surgeons and oncologists involved in the diagnosis and management of patients with gastrointestinal cancer.
List of Contributors, vii
Part 1 Introduction to Endoscopy
1 Introduction to Gastrointestinal Endoscopy in the Cancer Patient, 3
Matthew R. Banks & John C. Deutsch
Part 2 Esophagus
2 Staging of Premalignant and Malignant Conditions of the Esophagus, 11
Rehan J. Haidry & Matthew R. Banks
3 Endoscopic Management of Premalignant and Early Malignant Diseases of the Esophagus, 29
J.M. Dunn, Rehan J. Haidry & Matthew R. Banks
4 Palliation of Advanced Tumors of the Esophagus Including YAG Laser, APC, PDT, Ethanol, Stent for Obstruction or Fistula, PEG, and Brachytherapy, 42
Evelyn P.M. van Vliet & Peter D. Siersema
5 Endoscopy in Esophageal Cancer: An Oncologist's Perspective, 51
Gilberto de Castro Junior, Maria Ignez F. Melro Braghiroli, & Camille Rodrigues da Silva
Part 3 Stomach
6 Diagnosis and Staging of Diseases of the Stomach, 59
Ichiro Oda, Seiichiro Abe, & Shigetaka Yoshinaga
7 Endoscopic Management of Premalignant and Early Malignant Lesions, 75
Takuji Gotoda, Roy Soetikno, Tonya Kaltenbach, Takuji Gotoda, & Stefan Seewald
8 Palliation of Advanced Tumors of the Stomach, 90
Jayan Mannath, Matthew R. Banks, & Stephen Bown
9 Gastroscopy in Gastric Cancer: An Oncologist's Perspective, 95
Cheng Yeoh & Daniel Hochhauser

Part 4 Small Bowel
10 Staging of Premalignant and Early Malignant Diseases of the Small Bowel, 103
Hiroto Kita & Hironori Yamamoto
11 Endoscopic Management of Premalignant, Early, and Advanced Malignancies of the Small Bowel, 114
Klaus M¨onkem ¨ uller, Lucia C. Fry, & Helmut Neumann
12 The Role of Endoscopy in Small Bowel Malignancies, 122
David Shapiro, Joshua Melson, & Abhitabh Patil
Part 5 Pancreatic
13 Diagnosis and Staging of Pancreatic Neoplasms, 137
Craig A. Munroe, Thomas J. Savides, & Syed M. Abbas Fehmi
14 Pancreatic Cystic Lesions, 147
Raymond S. Tang & Thomas J. Savides
15 Pancreatic Cancer Screening in High-Risk Individuals, 161
Ingrid Gonzalez, Lisa Madlensky, & Thomas J. Savides
16 Endoscopic Palliation of Pancreatic Cancer, 170
Imad Elkhatib, Thomas Savides, & Syed M. Abbas Fehmi
17 Endoscopy in Pancreatic Cancer: An Oncologist's Perspective, 181
Fa-Chyi Lee
Part 6 Gallbladder, Bile Duct, and Ampulla of Vater Biliary, Gallbladder, and Ampullary Lesions
18 Diagnosis and Staging of Premalignant and Early Malignant Diseases, 193
Ihab I. El Hajj, John M. DeWitt, & Gregory A. Cot´e

19 Management of Premalignant and Early Malignancies of the Bile Ducts and Ampulla, 205
Geetha Nallamothu & Douglas G. Adler
20 Palliation of Advanced Tumors, 213
Evangelos Kalaitzakis, Gavin J. Johnson, & George J. Webster
21 Endoscopy in Biliary Tract Cancers: An Oncologist's Perspective, 225
John Bridgewater
Part 7 Hepatic Tumors (Including Intrahepatic Cholangiocarcinoma)
22 Diagnosis and Staging of Premalignant and Malignant Diseases of the Liver, 231
Elizabeth Fallon, Frederick Johlin, Alan Stolpen, & Jeffrey Dunkelberg
23 Endoscopic Evaluation and Therapy for Complications of Cirrhosis, 242
Peter R. McNally & P. Alexander McNally
24 Endoscopic Management of Early and Advanced Hepatic Tumors, 258
Yuk Tong Lee & Joseph J.Y. Sung
25 Hepatic Tumors: An Oncologist's Perspective, 273
Katie Weatherstone, Alexa Childs, & Tim Meyer
Part 8 Colorectal and Anal Tumors
26 Diagnosis, Staging, and Management of Premalignant and Early Malignant Diseases of the Colon, 285
Muhammed Thoufeeq, Takahiro Fujii, & Bjorn Rembacken
27 Palliation of Advanced Tumors, 295
George J. Webster & Stephen Bown
28 Colorectal and Anal Tumors: An Oncologist's Perspective, 302
Sam J. Lubner, David Kim, & Jennifer Weiss
29 Anal Cancer, 311
John C. Deutsch
Part 9 Gastrointestinal Endoscopic Management of Tumors Not of GI Origin—Role of GI Endoscopy
30 Endoscopy in Hematologic Malignancies, 319
William A. Ross
31 Thyroid, Head, and Neck Tumors, 327
John C. Deutsch
32 Prostate Cancer, Ovarian, and Peritoneal Disease, 333
Assaad M. Soweid & Mohammed H. Saad
33 Lung Cancer and Mediastinal Tumors, 345
Paul Clementsen, Peter Vilmann, Lars Konge, & Jouke Annema
34 Role of GI Endoscopy in Lymphoproliferative Disorders, 355
Ian D. Norton & Vipul Aggarwal
35 Endoscopy and Radiation Therapy, 367
Muslim Atiq, Alexander Dekovich, & Manoop S. Bhutani
36 Endoscopic Complications, 374
Jonathan R.B. Green
Index, 381