Gateways to Democracy: Six Urban Community College Systems: New Directions for Community Colleges, Number 107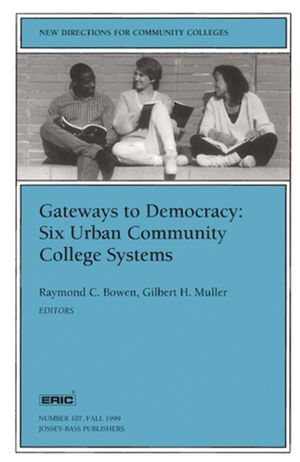 Gateways to Democracy: Six Urban Community College Systems: New Directions for Community Colleges, Number 107
ISBN: 978-0-787-94848-1 November 1999 Jossey-Bass 101 Pages
Description
Urban community colleges play multiple and challenging roles in the social, political, and economic fabric of the nation's metropolitan areas. This issue of
New Directions for Community Colleges
features case studies of six prototypical urban community college systems, exploring how they meet the educational and training needs of an increasingly diverse ethnic and racial community. The studies shed light on the key issues faced by urban community colleges, including the impact of city, state, and federal forces on the vitality of the college; how to create an urban social agenda with scarce resources; and how to provide equal access to all while strengthening accountability.
This is the 107th issue of the Jossey-Bass series New Directions for Community Colleges.
Table of contents
Urban America and the Community College Imperative: The Importance of Open Access and Opportunity (J. Smith & F. Vellani).
Miami-Dade Community College: Forging New Urban Partnerships (E. Padron & T. Levitt).
CUNY's Community Colleges: Democratic Education on Trial (J. Reitano).
Seattle Community Colleges: Centered on the Urban Student (J. Hungar).
The Los Angeles Community Colleges: Pathways to Urban Change (J. Fujimoto).
Profiles in Urban Challenges: Confronting Maricopa's Social and Economic Agenda (P. Elsner).
Baltimore County: A College and Community in Transition (I. McPhail & R. Heacock).
Sources and Information About Urban Community Colleges (D. Peterman & C. Kozeracki).