Gayatri Spivak: Ethics, Subalternity and the Critique of Postcolonial Reason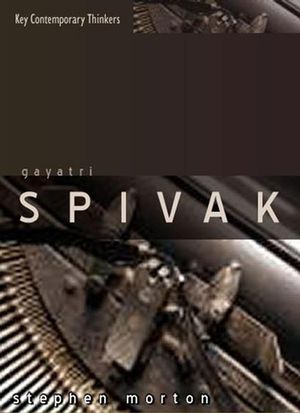 Gayatri Spivak: Ethics, Subalternity and the Critique of Postcolonial Reason
ISBN: 978-0-745-63285-8 January 2007 Polity 216 Pages
Download Product Flyer
Download Product Flyer
Download Product Flyer is to download PDF in new tab. This is a dummy description. Download Product Flyer is to download PDF in new tab. This is a dummy description. Download Product Flyer is to download PDF in new tab. This is a dummy description. Download Product Flyer is to download PDF in new tab. This is a dummy description.
Description
Gayatri Chakravorty Spivaks seminal contribution to contemporary thought defies disciplinary boundaries. From her early translations of Derrida to her subsequent engagement with Marxism, feminism and postcolonial studies and her recent work on human rights, the war on terror and globalization, she has proved to be one of the most vital of present-day thinkers.
In this book Stephen Morton offers a wide-ranging introduction to and critique of Spivaks work. He examines her engagements with philosophers and other thinkers from Kant to Paul de Man, feminists from Cixous to Helie-Lucas and literary texts by Charlotte Bronte, J. M. Coetzee, Mahasweta Devi and Jean Rhys. Spivaks thought is also situated in relation to subaltern studies. Throughout the book, Morton interrogates the materialist basis of Spivaks thought and demonstrates the ethical and political commitment which lies at the heart of her work.
Stephen Morton provides an ideal introduction to the work of this complex and increasingly important thinker.
Table of contents
Acknowledgements
Abbreviations
Introduction
Chapter One Postcolonial Criticism and Beyond
Chapter Two Deconstruction
Chapter Three Marxism and Post-Marxism
Chapter Four Subaltern Studies and the Critique of Representation
Chapter Five Transnational Feminism
Chapter Six From a Postcolonial Critique of Reason to A Critique of Postcolonial Reason
Conclusion: Transnational Literacy, Subaltern Rights and the Future of Comparative Literature
Notes
References
Index
Reviews
"Courage and vision have carried the bold message of Gayatri Spivak's remarkable work from the realms of pedagogy to the reaches of political practice. Morton's study will enhance our grasp of her exemplary oeuvre."
Homi K. Bhabha, Anne F. Rothenberg, Harvard University

"Gayatri Spivak's refusal to settle for the quick fix, the empty piety, the mere abstract calculus, or the language of expediency has never appeared more salutary than it does today. As violence counters violence in the name of moral righteousness, this lucid book, like Spivak's own critique of postcolonial studies, is a timely reminder of the complicity between imagined liberal benevolence and the ruthless pursuit of global hegemony at any cost. If one slogan emerges from Stephen Morton's analysis it is the ever more pressing need to 'learn to learn from the subaltern'. This is a task requiring patience and the learning of subaltern languages as 'active cultural media', not as mere instruments. Never has comparative literary and cultural studies beckoned so urgently."

Donna Landry, University of Kent at Canterbury
Features
A concise and authoritative introduction to the work of this increasingly important thinker

Written by an author with an established reputation as a critic and interpreter of Spivak's work

Provides an in-depth analysis of Spivak's relationship to postcolonialism, feminism, Marxism, and subaltern studies

Deals with the complete trajectory of Spivak's writing, from her early translations of Derrida, to her recent contributions to debates on human rights, terrorism and globalization

Updated to incorporate Spivak's most recent writings.