Geek House: 10 Hardware Hacking Projects for Around Home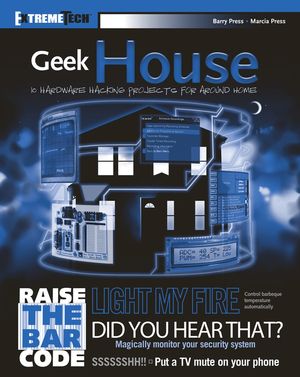 Geek House: 10 Hardware Hacking Projects for Around Home
ISBN: 978-0-764-57956-1
May 2005
304 pages
Product not available for purchase
Description
From the garage to the living room, Geek House provides hackers with 10 PC-based hardware hacking projects that are not for the faint of heart!
Taking the DIY mentality to a whole new level, this book teaches techies how to hack, customize, and modify everything-from their sprinkler systems to the temperature of their barbecues
Adventurous readers will feast on such projects as installing a bar code inventory system for DVDs or CDs, converting RS232 to wireless, scheduling recording from any television in the house, and creating a remote control finder
Companion Web site includes the custom software and source code needed to power these geeky creations
Acknowledgments.
Introduction.
Part I: In the Basement.
Chapter 1: X-10 Under the Hood.
Chapter 2:Wireless RS-232 Link.
Part II: In the Den or Family Room.
Chapter 3: Home Television Server.
Chapter 4: Security Monitoring.
Chapter 5: Television Mute on Phone Ring.
Part III: In the Kitchen and Dining.
Chapter 6: Anything Inventory.
Chapter 7: Kitchen PC.
Chapter 8: Automated BBQ Temperature Control.
Part IV: In the Garage and Out the Door.
Chapter 9: Automated Sprinkler Control.
Chapter 10: Car PC.
Chapter 11: Hacking on Your Own.
Appendix A:Working with Your PC: Software.
Appendix B:Working with Your PC: Hardware.
Appendix C:What's on the Web Site.
Index.