Gender, 2nd Edition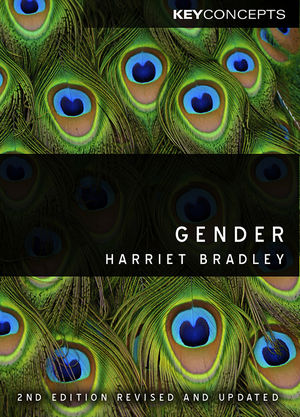 Gender, 2nd Edition
ISBN: 978-0-745-66115-5 December 2013 Polity 258 Pages
Description
Gender issues continue to be a prominent concern of academics and policy-makers, and increasingly arise in various forms to be debated in the public sphere and popular media. But what exactly do we mean by gender? How can we best understand gender differences? How are current gender relations changing? What new paths are 'femininity' and 'masculinity' taking? What would it be like to live in a society in which differences of gender were transcended?

In this new edition of her popular and highly lauded book, Harriet Bradley provides an introduction to the concept of gender and the different theoretical approaches which have developed within gender studies. Utilizing life narratives, she investigates processes of gendering in three important spheres of contemporary social life: production, reproduction and consumption. The book highlights the centrality of gender in everyday life and shows how thinking about gender is influenced by changing political contexts. As well as updating the discussion with the latest scholarship, political concerns and economic data, the new edition pays closer attention to intersectionality and hybrid identities, as well as exploring the complexities of contemporary relations of masculinity and femininity in the light of new feminist activities.

This lively and accessible book will be of interest to students across the social sciences, as well as anyone interested in contemporary relations between women and men.
Table of contents
Preface to Second Edition vii
Introduction: The Concept of Gender 1
IN AND OUT OF THE FRAME: A PERSONAL HISTORY OF GENDER 9
1. What's in a Name? Meanings and Usages of Gender 15
GENDERING AND CLASS: GROWING UP GIRL, GROWING UP BOY 29
2. Gender and Modernity 37
'WHAT'S IT ALL ABOUT?' BEING A MAN IN THE TWENTY-FIRST CENTURY 54
3. Gender and Postmodernity 64
'SISTERS UNDER THEIR SKINS'? IDENTITIES IN A GLOBAL AGE 87
4. Gendered Worlds: Production 98
HAVING IT ALL: FAMILY AND EMPLOYMENT IN WOMEN'S LIVES 118
5. Gendered Worlds: Reproduction 129
MEN, MARRIAGE AND EMOTIONS: ARRANGEMENTS BETWEEN THE SEXES 150
6. Gendered Worlds: Consumption 159
IT DOESN'T HAVE TO BE THIS WAY: GENDERED UTOPIAS 183
Conclusion: What the Future Holds – Gender, Theory and Politics 195
Questions for Discussion 221
Glossary 223
References 227
Index 242
Reviews
'This new edition of Gender provides a highly accessible overview of the changing understanding of this powerful social construct. Using a narrative story-telling approach, Harriet Bradley shifts seamlessly between analyses of how gender shapes everyday life and discussions of how it is deployed in various institutions. By weaving together her own experience of gendered processes with the structural practices of consumption, production, and reproduction in local and international contexts, Bradley gives new meaning to "the personal is political".'
Nancy Naples, University of Connecticut
'Harriet Bradley has succeeded in producing a unique and extremely engaging introduction to the complex concept of "gender" which will invigorate scholars at all levels. Dispelling any notion that either feminist theory or gender analysis are passé, she deftly interweaves theoretical exegesis, analysis of contemporary social and political issues, and vignettes which illustrate gender as a lived experience.'
Barbara L. Marshall, Trent University, Canada
'The first edition of Gender has become an indispensable guide to sociological debates in the field. This revised edition is even better. Harriet Bradley turns her clear analytical gaze on the changing nature of gender relations in an era of austerity, seeing both optimistic and pessimistic trends in the emergence of a new politics of gender.'
Linda McDowell, University of Oxford
Features
New edition of a popular and highly lauded introduction to gender - the first edition won Choice's outstanding academic title award.
Provides an excellent survey of the key theoretical approaches that have been developed in gender studies, and how they relate to social and political life.
Written in an engaging and lively style, using life narratives and life stories to help contextualize the theory.
Updated throughout, particularly paying attention to the intricacies of gender relations in the light of recent feminist activities and 'new roles' for men.