Gender: In World Perspective, 3rd Edition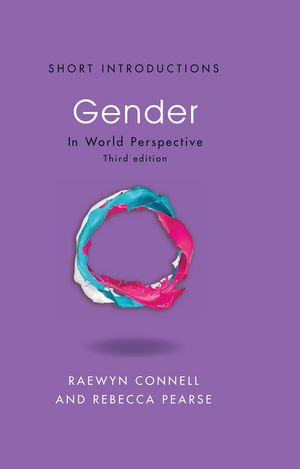 Gender: In World Perspective, 3rd Edition
ISBN: 978-0-745-68071-2 December 2014 Polity 192 Pages
Description
How can we understand gender in the contemporary world? What psychological differences now exist between women and men? How are masculinities and femininities made? And what is the relationship between gender issues and globalizing concerns such as environmental change and economic restructuring?

Raewyn Connell, one of the world's leading scholars in the field, is here joined by Rebecca Pearse as they answer these questions and more. Their book provides a readable introduction to modern gender studies, covering empirical research from all parts of the world in addition to theory and politics. As well as introducing the field, Gender provides a powerful contemporary framework for gender analysis with a strong and distinctive global awareness. Highlighting the multi-dimensional character of gender relations, the authors show how to link personal life with large-scale organizational structures and how gender politics changes its form in changing situations.

The third edition of this influential and accessible book includes a whole new chapter on ecofeminism, environmental justice and sustainability. It also brings the review of research up to date throughout and explains new debates and emerging gender theories.

Gender is engaged scholarship that moves from personal experience to global problems and offers a unique perspective on gender issues today.
Table of contents
Preface
Chapter 1. The Question of Gender
Chapter 2. Gender Research: Five Examples
Chapter 3. Gender Theorists and Gender Theory
Chapter 4. Sex Differences and Gendered Bodies
Chapter 5. Gender Relations and Gender Politics
Chapter 6. Gender in Personal Life
Chapter 7. Gender and Environmental Change
Chapter 8. Economies, States and Global Gender Relations
Coda
References
New To This Edition
Whole new chapter on ecofeminism, environmental justice and sustainability
Brings the review of research up to date throughout, with further revisions and elucidation of key gender theory
Reviews
"In a world where gender issues are increasingly in the spotlight (for example, in the recent past, see debates in the media around violence against women during the trial of athlete Oscar Pistorius and cases of rape in India and discussions on same-sex marriage in some countries with the simultaneous tightening of laws on homosexuality in places such as Russia and Uganda), this updated version of Raewyn Connell's book
Gender
, is an important contribution."
Gender and Development
"
Gender
is for sure the best short introduction to the complex field of gender studies. Raewyn Connell's decades of passionate intellectual engagement as a teacher, cutting-edge scholar and advocate of a perspective from the global south make her books a lively, accessible and a compelling read."
Paula-Irene Villa, University of Munich
"Raewyn Connell has established herself as among the foremost thinkers of gender. Her work on masculinities has been at the center of scholarly and public debate for the last two decades. Connell's blend of theory and empirical research, and her global vantage point, is virtually unique among scholars.
Gender
is a gift to both students and professors who want a succinct and clear, but also thoughtful and provocative, overview of the current state of gender thinking and politics."
Steven Seidman, University at Albany