Gender Archaeology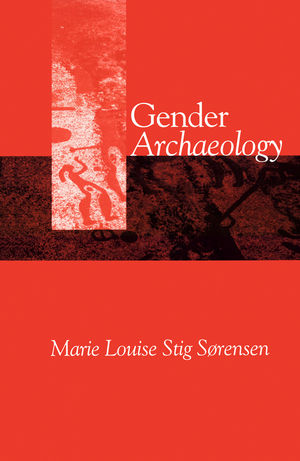 Gender Archaeology
ISBN: 978-0-745-62015-2
Aug 2000, Polity
248 pages
Description
This major new textbook explores the relations between gender and archaeology, providing an innovative and important account of how material culture is used in the construction of gender. Throughout this lively and accessible text, Sorensen engages with the question of how gender is materially constituted, and examines the intersection of social and material concerns from the Palaeolithic Age to the present day.

Part One discusses a range of important general issues, beginning with an overview of the recent role of gender and gender relations in our appropriation of past societies. After introducing the debate about feminist or gender archaeology, Sorensen examines archaeology's concern with the sex/gender distinction, the nature of negotiation, and feminist epistemological claims in relation to archaeology. In Part Two, the author focuses on the materiality of gender, exploring it through case studies ranging from prehistory to contemporary society. Food, dress, space and contact are examined in turn, to show how they express and negotiate gender roles.

This illustrated textbook will be essential reading for students and scholars in archaeology, anthropology, material culture studies and women's studies.
List of illustrations.
Acknowledgements.
PART I.
1. Gender into the Past.
2. Gender and Archaeology: a History.
3. Theorizing Gender: Sex and Gender.
4. Theorizing Gender: Negotiation and Practice.
5. The Materiality of Gender: The Gendered Object.
PART II.
6. Food: The Performance of Feeding and Eating.
7. Dressing Gender: Identity through Appearance.
8. The Engendering of Space.
9. Contact: The Short-lived Triangle.
10. The Beginning: On Becoming Gendered.
11. Reflections.
References.
Index.
'This book is of the highest intellectual quality, carefully argued in a non-confrontational tone. Sørenson's emphasis on what archaeology can contribute to the social science discussion about gender is a refreshing change from much of the existing literature on the topic.'
Elizabeth Scott, Zooarch Research
'For a penetrating analysis of the state of gender archaeology today, and an extended discussion of the ways in which archaeology can best contribute to understanding gender, this book is extremely important ... Clear and cogent, this book will be of interest to all archaeologists because of its emphasis on the materiality of gender.' Journal of Anthropological Research

'This is not just another book about the history or nature of gender archaeology or the problems associated with making women visible in the past. The author addresses these subjects, but also contributes both theoretical insights into defining gender and practical approaches to excavating "gendered" objects ... Although engendering the archaeological record is a complex endeavor, she documents ways in whch it is an achievable goal. Her book is thorough, well footnoted and well argued.' Choice
A major new illustrated textbook which has no competitors, it combines the basic textbook material with an up-to-date theoretical perspectiveAn innovative and important discussion of the role of material culture in the construction of genderWritten in a lively and accessible fashion, the book provides a thematic discussion of food, dress, space and contact - themes which are of broad relevance both to archeology and to neighbouring disciplinesAn extensive review of the history of gender archeology and its theoretical foundationExamples range widely from prehistory, history and contemporary societies, and also have a broad geographical relevance