Gender and the Body in the Ancient Mediterranean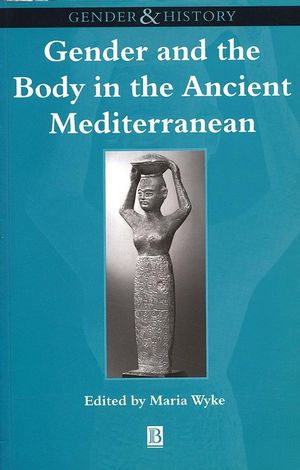 Gender and the Body in the Ancient Mediterranean
ISBN: 978-0-631-20524-1 August 1998 Wiley-Blackwell 232 Pages
Description
Gender and the Body in the Ancient Mediterranean builds up an important source of interdisciplinary information for the study of gender and the body in history. .
Table of contents
Abstracts
.
Introduction (Maria Wyke).
Articles.
The Essential Body: Mesopotamian Conceptions of the Gendered Body (Julia M. Asher-Greve).
Auguries of Hegemony: The Sex Omens of Mesopotamia (Ann Kessler Guinan).
With This Body I Thee Worship: Sacred Prostitution in Antiquity (Mary Beard and John Henderson).
Men Without Clothes: Heroic Nakedness and Greek Art (Robin Osborne).
Women's Costume and Feminine Civic Morality in Augustan Rome (Judith Lynn Sebesta).
The Ideology of the Eunuch Priest (Lynn E. Roller).
Why Aren't Jewish Women Circumcised? (Shaye J. D. Cohen).
Creation, Virginity and Diet in Fourth-Century Christianity: Basil of Ancyra's On the True Purity of Virginity (Teresa M. Shaw).
Thematic Reviews.
Engendering Egypt (Lynn Meskell).
Re(ge)ndering Gender(ed) Studies (Alison Sharrock).
Manhood in the Graeco-Roman World (Jonathan Walters).
Getting/After Foucault: Two Postantique Responses to Postmodern Challenges (Paul Cartledge).
Reading the Female Body (Helen King).
Gendered Religions (Gillian Clark).
Gender and Sexuality on the Internet (John G. Younger).
Notes on Contributors.
Index
Reviews
"This is an excellent addition to the study of gender in the ancient world." The Classical Review
Features
* Adds to explosion of interest in issues of gender, the body, and history.
* Investigates the centrality of gender distinctions to ancient societies.
* Complements the study of women in antiquity.