Gender in Political Theory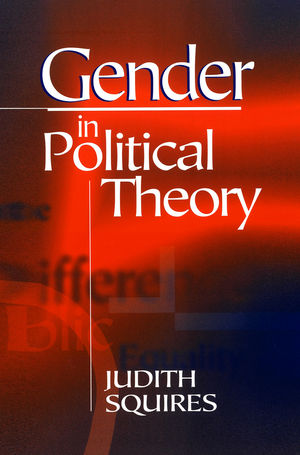 Gender in Political Theory
ISBN: 978-0-745-66857-4 May 2013 Polity 264 Pages
Description
This wide-ranging and accessible book provides a thorough overview of the key debates in gender and political theory.
Table of contents
Introduction: Gendering Political Theory.
Part I: Fractious Feminist Frames: .
1. Framing Politics.
2. Framing Gender.
3. Framing Theory.
Part II: Reconstructing the Political.
4. Equality.
5. Justice.
6. Citizenship.
7. Representation.
Conclusion.
References and Bibliography.
Index.
Reviews
'Judith Squires has done a marvellous job both in schematizing the trajectories of contemporary feminisms and in relating these to current debates in political theory. Her writing is wonderfully lucid, while her analysis is admirably incisive. I would very strongly recommend this book to anyone seeking a pathway through the plethora of recent works on gender.'
Diana Coole, Queen Mary and Westfield College, University of London
'Gender in Political Theory is a thoughtful, densely argued text. Judith Squires has provided students of politics with an indispensably insightful, nuanced and thoroughly engaging exploration of the complex, yet often paradoxical ways that feminist debates about the centrality of gender as an analytic category have fundamentally transformed the discipline of politics. Navigating deftly among many contested perspectives on the project of Western feminist theory and the study of politics, Squires provides a comprehensive and eminently readable assessment of the ways that different approaches to theorizing gender reframe and reconstruct the political.' Kathy Jones, San Diego State University

'The closing decades of the twentieth century saw an upsurge of interest in the analysis of gender and the production of increasingly sophisticated gender theory which, as Squires demonstrates, challenges the boundaries and assumptions of conventional political theory ... This book provides an impressively clear exposition of many of these debates which never loses sight of the complexity of the ideas involved and which shows a sound command of both mainstream and feminist political thought ... an important contribution to our understanding of gender in political theory.' Contemporary Politics

'This is quite simply an excellent read and a thoughtful, engaging and compelling discussion of how gendered concepts and concerns have "gendered" political theory. It should be required reading for every undergraduate approaching the study of politics and sets the agenda for a fruitful cross-fertilization of feminist ideas and political theory for the 21st century.' PSA Post-structuralism and Radical Politics Specialist Group
Features
* An accessible and wide-ranging guide to the key debates in gender political theory.
* Focuses on four central debates-equality, justice, citizenship, and representation.
* Clearly structured to provide an invaluable introduction to the subject for undergraduates.