Gendered Colonialisms in African History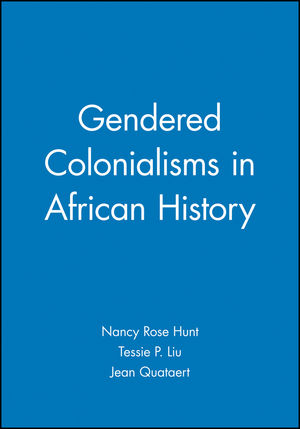 Gendered Colonialisms in African History
ISBN: 978-0-631-20476-3
Jul 1997, Wiley-Blackwell
152 pages
Description
Focusing on African and European women and men, five articles explore generational conflict, connections between representation and violence, the incorporation of gendered power into state formation, memory and forgetting, and consumption and commodity cultures.
Introduction: Nancy Rose Hunt (University of Arizona, USA).
1. Ngaitana (I will circumcise myself): The Gender and Generational Politics of the 1956 Ban on Clitoridectomy in Meru, Kenya: Lynn M. Thomas (University of Michigan, Ann Arbor, USA).
2. "Cocky" Hahn and the "Black Venus": The Making of a Native Commissioner in South West Africa, 1915-46: Patricia Hayes (University of the Western Cape, South Africa, and Zimbabwe).
3. "Not Welfare or Uplift Work": White Women, Masculinity and Policing in South Africa: Keith Shear (Northwestern University in Evanston, Illinois, USA, and South Africa).
4. Love Magic and Political Morality in Central Madagascar, 1875-1990: David Graeber (University of Chicago, USA).
5. "Fork Up and Smile": Marketing, Colonial Knowledge and the Female Subject in Zimbabwe: Timothy Burke (Swarthmore College in Pennsylvania, USA).
"These new works are likely to influence future research aimed at disentangling the complicated local and metropolitan interactions that gendered so many facets of colonial experiences in Africa and elsewhere." American Historical Review.


Nancy Rose Hunt's introduction places the essays in historiographical context for non-specialist readers.


Includes studies of men and masculinity and of the symbolic dimensions of gender as well as studies of African women's history.


Path-breaking work by younger scholars draws upon field work and archival research in Africa and Europe.