Gendered Perspectives on Community College: New Directions for Community Colleges, Number 142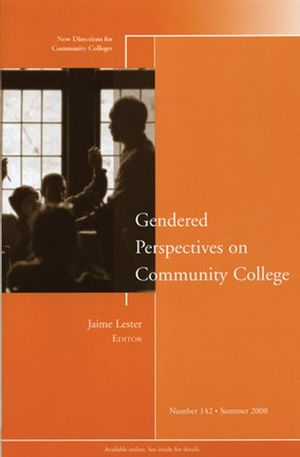 Gendered Perspectives on Community College: New Directions for Community Colleges, Number 142
ISBN: 978-0-470-39670-4
Jun 2008
112 pages
Description
This volume explores and begins to unravel the complexities of gender issues confronting men and women in two-year institutions. The authors address a wide range of questions that frame the current challenges facing community colleges, and provide thoughtful discussions of the gender-related experiences of female and male students, staff, faculty and administrators.

The chapters blend evidence from personal narratives and survey results and offer recommendations that will help community colleges across the board, from serving students struggling with identity issues to institutionalizing fairness in hiring and promotion.

Topics include
Community Colleges as Gender-Equitable Institutions
Factors Promoting Academic Success Among African American and White Male Community College Students
Masculinities Go to Community College: Understanding Male Identity Socialization and Gender Role Conflict
Broadening Female Participation in Science, Technology, Engineering, and Mathematics: Experiences at Community Colleges
Noninstructional Staff Perceptions of the College Climate
The Actors Behind the Curtain: Representation of Women Faculty in Community College Institutional Decision Making
Gendered Leadership: An Organizational Perspective
Work and Family Balance: How Community College Faculty Cope
Meeting the Challenge of Gender Equity in Community College Athletics
Strategizing for the Future
Gender-related conundrums lurk in every aspect of our society and culture, and higher education is no exception. Readers of this volume will come away with a better sense of how to assist those who teach, learn, and lead in our nation's democratic colleges.
This is the 142nd volume of the Jossey Bass quarterly report series New Directions for Community Colleges. Essential to the professional libraries of presidents, vice presidents, deans, and other leaders in today's open-door institutions, New Directions for Community Colleges provides expert guidance in meeting the challenges of their distinctive and expanding educational mission.
EDITOR'S NOTES (
Jaime Lester
).
1. Community Colleges as Gender-Equitable Institutions (Barbara K. Townsend)
This chapter discusses changes in gender-equity issues in community colleges since the mid-1990s.
2. Factors Promoting Academic Success Among African American and White Male Community College Students (Athena I. Perrakis)
A longitudinal study of male white and African American students in an urban community college district provides evidence of the factors that promote student success.
3. Masculinities Go to Community College: Understanding Male Identity Socialization and Gender Role Conflict (Frank Harris III, Shaun R. Harper)
Using vignettes of male students in community colleges, this chapter describes the impact of gender socialization and gender identity conflicts on male student retention.
4. Broadening Female Participation in Science, Technology, Engineering, and Mathematics: Experiences at Community Colleges (Soko S. Starobin, Frankie Santos Laanan)
This discussion of women in STEM fields includes their reasons for enrollment and their experiences in the community college.
5. Noninstructional Staff Perceptions of the College Climate (Molly H. Duggan)
This chapter focuses on a largely invisible group of noninstructional staff and provides data on the impact of organizational climate and workplace satisfaction.
6. The Actors Behind the Curtain: Representation of Women Faculty in Community College Institutional Decision Making (Jaime Lester, Scott Lukas)
Findings from a study of faculty governance in California's community colleges provide evidence of the involvement, satisfaction, and experiences of women in campus and districtwide governance.
7. Gendered Leadership: An Organizational Perspective (Pamela L. Eddy, Elizabeth M. Cox)
This chapter describes the experiences of six female community college presidents, describing their path to the presidency and instances of gender inequity they have experienced on those paths.
8. Work and Family Balance: How Community College Faculty Cope (Margaret W. Sallee)
Survey data from one institution serve as a case study of how faculty in community colleges struggle with work-family balance.
9. Meeting the Challenge of Gender Equity in Community College Athletics (Cindy Castañeda, Stephen G. Katsinas, David E. Hardy)
National data on compliance with Title IX provide evidence of gender inequities in athletics within community colleges.
10. Strategizing for the Future (Pamela L. Eddy, Jaime Lester)
The final chapter in this volume presents practical recommendations for community colleges interested in becoming more gender equitable.
INDEX.