Gendering the Middle Ages: A Gender and History Special Issue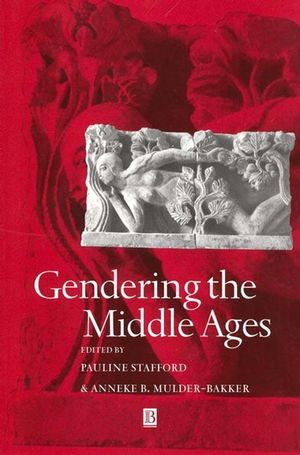 Gendering the Middle Ages: A Gender and History Special Issue
ISBN: 978-0-631-22651-2 January 2002 Wiley-Blackwell 252 Pages
Description
A collection in which a group of leading historians of medieval Europe apply a gendered analysis to a series of questions ranging from the transformation of the Roman world and the Christian challenge to late antique masculinity, through canon law and Byzantine coinage to the childhood of medieval visionaries.
1. The Gender of Grace: Impotence, Servitude, and Manliness in the Fifth-Century West: Kate Cooper and Conrad Leyser (University of Manchester).
2. Did women have a transformation of the Roman world?: Julia M. H. Smith (University of St Andrews).
3. The Gender of Money: Byzantine Empresses on Coins (324-802): Leslie Brubaker and Helen Tobler (University of Birmingham and independent researcher).
4. "Ex utroque sexu fidelium tres ordines" - The Status of Women in Early Medieval Canon Law: Eva M. Synek (University of Vienna).
5. "Halt! Be men!" Sikelgaita of Salerno, Gender and the Norman Conquest of Southern Italy: Patricia Skinner (University of Southampton).
6. The Metamorphosis of Woman: Transmission of Knowledge and the Problems of Gender: Anneke B. Mulder-Bakker (Rijksuniversiteit Groningen).
7. Visions of My Youth: Representations of the Childhood of Medieval Visionaries: Rosalynn Voaden and Stephanie Volf (Arizona State University).
8. Female Petitioners in the Papal Penitentiary: Ludwig Schmugge (University of Zurich).
9. Gendering Princely Dynasties. Some Notes on Family Structure, Social Networks, and Communication at the Courts of the Margraves of Brandenburg-Ansbach around 1500: Cordula Nolte (Ernst-Moritz-Arndt University of Greifswald).
Thematic Reviews Gender, Memory and Social Power: Janet L. Nelson (King's College London).
Gender and Sanctity in the Middle Ages: Katherine J. Lewis (University of Huddersfield).
Gendering the Black Death: Women in Later Medieval England: S. H. Rigby (University of Manchester).
Nunneries, Communities and the Revaluation of Domesticity: Felicity Riddy (University of York).


wide-ranging coverage, both geographical and chronological.


It revisits areas of long-standing interest to students of medieval women, e.g. medieval visionaries, and opens up new areas, such as canon law and the transformation of the Roman world, to a gendered analysis.


opens up new areas such as cannon law and the transformation of the Roman world, to a gendered analysis.