General Chemistry I as a Second Language: Mastering the Fundamental Skills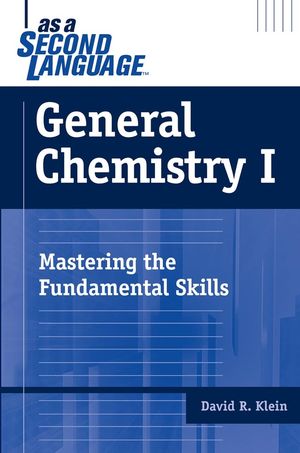 General Chemistry I as a Second Language: Mastering the Fundamental Skills
ISBN: 978-0-470-46442-7 November 2008 336 Pages
Description
Many students and instructors are overwhelmed by the vast amount of content and concepts presented in General Chemistry. Students often emerge from the course with little understanding of chemical concepts and must be retaught in subsequent courses. This supplemental text can be paired with Olmsted/Williams, Brady, Spencer or any other General Chemistry title.
David Klein is a lecturer at Johns Hopkins University where he teaches Organic and General Chemistry. He is a dynamic and creative teacher and uses analogy to help students grasp difficult topics. Klein's unique informal voice and manner of presentation help students truly master key topics in this course. He is also the author of Organic Chemistry as a Second Language; response to this book has been phenomenal.
Table of contents
Chapter 1. Numbers and Units.
Chapter 2. Counting Atoms and Molecules.
Chapter 3. Balancing Reactions and Stoichiometry.
Chapter 4. The Ideal Gas Law.
Chapter 5. Energy and Enthalpy.
Chapter 6. Orbitals, Bonds, and Counting Electrons.
Chapter 7. Drawing Lewis Structures.
Chapter 8. Molecular Geometry and Hybridization States.
Chapter 9. Exponents and Logarithms.
Appendix.
Answers.
Index.
New To This Edition
A new approach to the presentation of General Chemistry topics using informal voice and analogy.
Features
· A new approach to the presentation of General Chemistry topics using informal voice and analogy
· Focuses on a few key topics
· Cover key topics in depth and provide lots of practice