Generalized Riccati Theory and Robust Control: A Popov Function Approach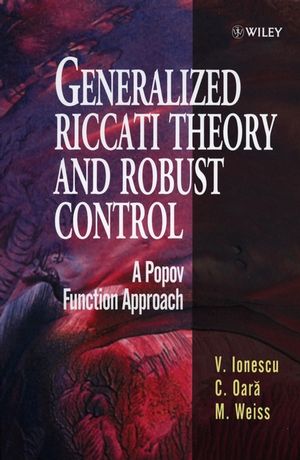 Generalized Riccati Theory and Robust Control: A Popov Function Approach
ISBN: 978-0-470-86385-5
Nov 2000
402 pages
Description
This comprehensive work is unique in providing a generalization of the algebraic Riccati theory to the indefinite sign and singular cases, from the perspective of the Popov function approach. The theory embodies a systemic presentation of the time domain, frequency domain, and state-space standpoints. The whole development is oriented towards applications in robust systems theory.
GENERAL MATRIX THEORY AND LINEAR DYNAMICAL SYSTEMS.
Matrices, Matrix Pencils, and Rational Matrix Functions.
Linear Dynamical Systems.
GENERALIZED RICCATI THEORY.
Popov Triplets.
Riccati Theory: An Operator-Based Approach.
Riccati Equations and Matrix Pencils: The Regular Case.
Riccati Systems and Matrix Pencils: The General Case.
APPLICATIONS TO SYSTEMS THEORY AND ROBUST CONTROL.
Applications to Systems Theory.
The Four Block Nehari Problem.
The Optimal H2-Control Problem.
The H∞-Control Problem.
Robust Stabilization.
References.
Index.
"...a comprehensive presentation of an original approach...to the theory of the algebraic Riccati equation and its application to the robust control of liner dynamical systems." (Quarterly of Applied Mathematics, Vol. LX, No. 1, March 2002)