Genetic Counseling Practice: Advanced Concepts and Skills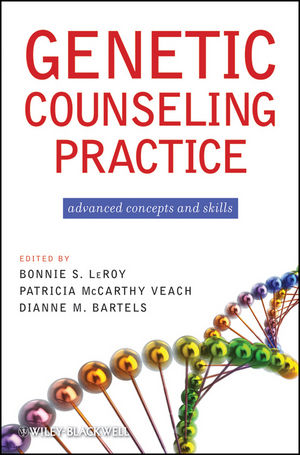 Genetic Counseling Practice: Advanced Concepts and Skills
ISBN: 978-1-118-21059-8 September 2011 Wiley-Blackwell 428 Pages
Download Product Flyer
Download Product Flyer
Download Product Flyer is to download PDF in new tab. This is a dummy description. Download Product Flyer is to download PDF in new tab. This is a dummy description. Download Product Flyer is to download PDF in new tab. This is a dummy description. Download Product Flyer is to download PDF in new tab. This is a dummy description.
Description
The first advanced-level genetics counseling skills resource
As genetic medicine and testing continue to expand, so the role of the genetic counselor is transforming and evolving. Genetic Counseling Practice: Advanced Concepts and Skills is the first text to address ways that genetic counselors can deepen their skills to meet expanding practice demands. This timely resource not only helps readers further develop their abilities to gather relevant data and interpret it for patients, it also aids them in surpassing their usual role by truly understanding patient situations, incorporating patient values into clinical practice, providing in-depth support, and facilitating thoroughly informed, autonomous decisions.
Edited by an expert cross-disciplinary team consisting of a genetic counseling program director, a licensed psychologist, and a nurse/bioethicist/family social scientist, this authoritative reference provides specific and detailed instruction in addressing psychosocial aspects of genetic counseling practice and professional development and training issues of genetic counselors.
Provides a process view of genetic counselor service provision; i.e., skills that promote desired genetic counseling outcomes are emphasized (such as relationship skills, patient characteristics, client behaviors, and extra-clinical skills)

Includes experiential activities in every chapter to help readers apply concepts and skills

Draws on the experience of widely recognized experts in genetic counseling theory, practice, and research, who serve as chapter authors

Features numerous specific, real-life examples from clinical practice
Genetic Counseling Practice addresses issues relevant to practicing genetic counselors as well as students of genetic counseling programs. In addition, oncology nurses, social workers, and psychologists working with genetic counseling patients and families; medical geneticists and physicians training in the field; and physician assistants will also benefit from this resource.
Table of contents
CONTRIBUTORS vii
PREFACE xi
1 INTRODUCTION 1
Bonnie S. LeRoy, Patricia McCarthy Veach, and Dianne M. Bartels
PART I GENETIC COUNSELING DYNAMICS.
2 COMPLICATED SHADOWS: A CRITIQUE OF AUTONOMY IN GENETIC COUNSELING 13
Robert G. Resta
3 ACTIVELY ENGAGING WITH PATIENTS IN DECISION MAKING 31
Andrea Zanko and Michelle Fox
4 RISK COMMUNICATION: A COMPLEX PROCESS 65
Shannan DeLany Dixon and Yasmine L. Konheim-Kalkstein
5 GRIEVING: AN INEVITABLE JOURNEY 95
Elizabeth Gettig
6 FACING PATIENT ANGER 125
Bonnie Jeanne Baty
7 RESISTANCE AND ADHERENCE: UNDERSTANDING THE PATIENT'S PERSPECTIVE 155
Jon Weil
8 COUNTERTRANSFERENCE: MAKING THE UNCONSCIOUS CONSCIOUS 175
Jon Weil
PART II CLIENT CULTURAL AND INDIVIDUAL CHARACTERISTICS.
9 HONORING DIVERSITY: CULTURAL COMPETENCE IN GENETIC COUNSELING 201
Linwood J. Lewis
10 GENETIC COUNSELING STRATEGIES FOR WORKING WITH FAMILIES 235
Deborah L. Eunpu
11 DEVELOPMENTALLY BASED APPROACHES FOR COUNSELING CHILDREN AND ADOLESCENTS 253
Stephanie Austin
12 GENETIC COUNSELING FOR WOMEN WITH INTELLECTUAL DISABILITIES 281
Brenda Finucane
PART III GENETIC COUNSELOR DEVELOPMENT.
13 GENETIC COUNSELORS: CARING MINDFULLY FOR OURSELVES 307
June A. Peters
14 PROFESSIONAL DEVELOPMENT: REFLECTIVE GENETIC COUNSELING PRACTICE 353
Kimberly W. Zahm
15 MOBILIZING GENETIC COUNSELOR LEADERSHIP SKILLS 381
Nancy P. Callanan
INDEX 401
Reviews
"Finally, the experience of the authors is evident in the writing and the book is underpinned by a wide range of current references. This is a comprehensive publication that will be of interest to genetic counsellors working in a range of settings." (Hum Genet, 2010)
"Who would read this volume? As the mantra of the time is genetic determinism, literally everyone could benefit from this book. For genetic counsellors, this volume would be a valuable textbook for their shelf. " (Sultan Qaboos University Medical Journal, 1 August 2010)