Genetic Disorders and the Fetus: Diagnosis, Prevention and Treatment, 6th Edition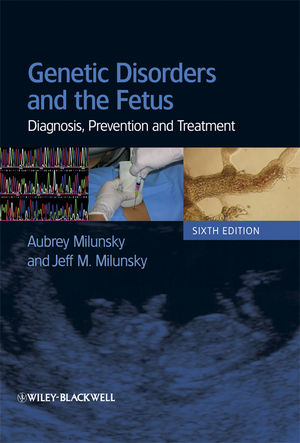 Genetic Disorders and the Fetus: Diagnosis, Prevention and Treatment, 6th Edition
ISBN: 978-1-444-35821-6
Sep 2011, Wiley-Blackwell
1184 pages
Description
Highly Commended in the Obstetrics and Gynaecology category of the 2010 BMA Medical Book Competition
Brand new edition of the world's leading text on prenatal diagnosis
This 6th Edition of Genetic Disorders and the Fetus maintains it's pre-eminence as the major repository of facts about prenatal diagnosis. It provides a critical analysis and synthesis of established and new knowledge based on the long experience of authorities in their respective fields. A broad international perspective is presented through authoritative contributions from authors in 11 countries. All chapters and guidelines have been updated to reflect contemporary practice. New chapters have been introduced on:
The use of chromosomal microarrays in prenatal diagnosis
The social, legal and public policy issues with special reference to international approaches
The important peroxisomal and related fatty acid oxidation disorders
Extensive tables and clear illustrations assist in differential diagnosis, gene identification and diagnostic modes. The recognition of many new and unresolved challenges should provide inspiration for novel research initiatives. The guidance provided and the insights and perspectives of these authors make this volume a valuable and indispensable resource for all whose focus is securing fetal health through prenatal diagnosis.
Genetic Disorders and the Fetus: Diagnosis, Prevention and Treatment is an essential resource for all engaged in prenatal genetic diagnosis, especially obstetricians, maternal-fetal medicine specialists, medical geneticists, genetic counsellors, and pediatricians, but also many other specialties.
Preface.
Acknowledgments.
List of Contributors.
1 Genetic Counseling: Preconception, Prenatal and Perinatal (Aubrey Milunsky and Jeff M. Milunsky).
2 Amniocentesis and Fetal Blood Sampling (Sherman Elias).
3 Amniotic Fluid (Aubrey Milunsky).
4 Amniotic Fluid Cell Culture (Daniel L. van Dyke).
5 Prenatal Genetic Diagnosis through Chorionic Villus Sampling (Giovanni Monni, Rosa Maria Ibba and Maria Angelica Zoppi).
6 Prenatal Diagnosis of Chromosomal Abnormalities through Amniocentesis (Peter A. Benn).
7 Prenatal Diagnosis of Sex Chromosome Abnormalities (Jeff M. Milunsky).
8 Molecular Cytogenetics and Prenatal Diagnosis (Stuart Schwartz).
9 Prenatal Diagnosis and the Spectrum of Involvement from Fragile X Mutations (Randi Hagerman, Vivien Narcisa and Paul Hagerman).
10 Prenatal Diagnosis by Microarray Analysis (Joris Robert Vermeesch).
11 Molecular Genetics and Prenatal Diagnosis (John A. Phillips III).
12 Prenatal Diagnosis of Disorders of Lipid Metabolism (Bryan G. Winchester).
13 Prenatal Diagnosis of the Peroxisomal and Mitochondrial Fatty Acid Oxidation Defi ciencies (Ronald J.A. Wanders).
14 Prenatal Diagnosis of the Mucopolysaccharidoses and Postnatal Enzyme Replacement Therapy (John J. Hopwood).
15 Disorders of the Metabolism of Amino Acids and Related Compounds (Vivian E. Shih and Roseann Mandell).
16 Prenatal Diagnosis of Disorders of Carbohydrate Metabolism (Yuan-Tsong Chen and Deeksha S. Bali).
17 Prenatal Diagnosis of Cystic Fibrosis (Gerald L. Feldman and Kristin G. Monaghan).
18 Prenatal Diagnosis and Treatment of Congenital Adrenal Hyperplasia (Phyllis W. Speiser).
19 Prenatal Diagnosis of Miscellaneous Biochemical Disorders (David S. Rosenblatt and David Watkins).
20 Prenatal Diagnosis of Primary Immunodefi ciency Diseases (Jennifer M. Puck).
21 Prenatal Diagnosis of the Hemoglobinopathies (John M. Old).
22 Prenatal Diagnosis of Disorders of Bone and Connective Tissue (Andrea Superti-Furga and Sheila Unger).
23 Maternal Serum Screening for Neural Tube and Other Defects (Aubrey Milunsky and Jacob A. Canick).
24 Multi-Marker Maternal Serum Screening for Chromosomal Abnormalities (Howard S. Cuckle and Peter A. Benn).
25 Prenatal Diagnosis of Fetal Malformations by Ultrasound (Yves G. Ville and Durata Nowakowska).
26 Prenatal Diagnosis and Management of Abnormal Fetal Development with Emphasis on the Third Trimester of Pregnancy (Juriy W. Wladimiroff and Titia E. Cohen-Overbeek).
27 Prenatal Diagnosis by Fetal Magnetic Resonance Imaging (Nadine Girard and Kathia Chaumoitre).
28 Induced Abortion for Genetic Indications: Techniques and Complications (Lee P. Shulman).
29 Preimplantation Genetic Diagnosis (Yury Verlinsky* and Anver Kuliev).
30 Prenatal Diagnosis through Analysis of Intact Fetal Cells and Cell-Free Nucleic Acids in the
Maternal Circulation (Diana W. Bianchi and Y.M. Dennis Lo).
31 Fetal Therapy (Diana L. Farmer, Hammin Lee, Elizabeth Gress, Aubrey Milunsky and Michael R. Harrison).
32 Prenatal Diagnosis of Fetal Infection (Yves Ville and Guillaume Benoist).
33 Medicolegal Aspects of Prenatal Diagnosis (Ellen Wright Clayton and Mary Z. Pelias).
34 Prenatal and Preimplantation Diagnosis: International Policy Perspectives (Bartha Maria Knoppers and Thu Minh Nguyen).
35 Ethical Issues in the Diagnosis and Management of Genetic Disorders in the Fetus (Frank A. Chervenak and Laurence B. McCullough).
Appendix, Prenatal Diagnosis of Additional Miscellaneous Genetic Disorders (Aubrey Milunsky).
Index.
Color plate.
* Deceased.
"Genetic Disorders and the Fetus: Diagnosis, Prevention, and Treatment gives exemplary treatment to the topics advertised on the cover. . . Instead, it will serve as a valuable resource in cleaner locales - in the office while analyzing the prenatal workup of a fetus about to be examined or while trying to understand the clinical discussion at maternal-fetal medicine conferences." (Pediatric & Developmental Pathology, 2011)