Genetic Effects on Environmental Vulnerability to Disease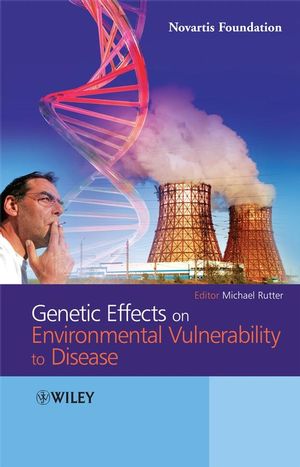 Genetic Effects on Environmental Vulnerability to Disease
ISBN: 978-0-470-69679-8 September 2008 232 Pages
Description
Much research has attempted to show direct linear relations between genes and disorder. However, scientists have been discouraged by inconsistent findings based on this simple gene-phenotype approach. The alternative approach is to incorporate information about the environment. A gene-environment interaction approach assumes that environmental pathogens cause disorder, whereas genes influence susceptibility to environmental pathogens.

This book brings together contributions from experts from multiple disciplines who discuss:
How epidemiological cohort studies can better integrate physiological (mechanistic) measures;
How best to characterise subjects' vulnerability versus resilience by moving beyond single genetic polymorphisms;
How gene hunters can benefit from recruiting samples selected for known exposures;
How environmental pathogens can be used as tools for gene hunting;
How to deal with potential spurious (statistical) interactions, and
How genes can help explain fundamental demographic properties of disorders (e.g. sex distribution, age effects).
1. Michael Rutter
Introduction: whither gene–environment interactions?
2. Rudolf Uher
Gene–environment interaction: overcoming methodological challenges
Discussion
3. Marco Battaglia, Cecilia Marino, Michel Maziade, Massimo Molteni and Francesca D'Amato
Gene–environment interaction and behavioural disorders: a developmental perspective based on endophenotypes
Discussion
4. Naomi R. Wray, William L. Coventry, Michael R. James, Grant W. Montgomery, Lindon J. Eaves and Nicholas G. Martin
Use of monozygotic twins to investigate the relationship between 5HTTLPR genotype, depression and stressful life events: an application of Item Response Theory
Discussion
Appendix
General discussion I
5. Harold Snieder, Xiaoling Wang, Vasiliki Lagou, Brenda W. J. H. Penninx, Harriëtte Riese and Catharina A. Hartman
Role of gene–stress interactions in gene-finding studies
Discussion
6. Kenneth A. Dodge
Practice and public policy in the era of gene–environment interactions
Discussion
7. Kristi B. Adamo and Frédérique Tesson
Gene–environment interaction and the metabolic syndrome
Discussion
General discussion II
8. Stephen P. Robertson and Richie Poulton
Longitudinal studies of gene–environment interaction in common diseases—good value for money?
Discussion
9. Kee-Seng Chia
Gene–environment interactions in breast cancer
Discussion
10. Malak Kotb, Nourtan Abdeltawab, Ramy Aziz, Sarah Rowe, Robert W. Williams and Lu Lu
Unbiased forward genetics and systems biology approaches to understanding how gene–environment interactions work to predict susceptibility and outcomes of infections
Discussion
11. Steven R. Kleeberger and Hye-Youn Cho
Gene–environment interactions in environmental lung diseases
Discussion
General discussion III
12. Fernando D. Martinez
Gene–environment interaction in complex diseases: asthma as an illustrative case
Discussion
13. Michael Rutter
Conclusions: taking stock and looking ahead
Glossary
Index of contributors
Subject index