Genetics of Cerebrovascular Disease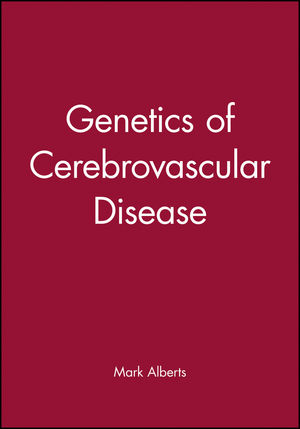 Genetics of Cerebrovascular Disease
ISBN: 978-0-879-93584-9 March 1999 Wiley-Blackwell 386 Pages
Description
This is the first book that focuses on genetics and stroke, an area of ever growing clinical and research importance. It integrates laboratory, applied and clinical research, with an emphasis on molecular genetic and genetic epidemiologic aspects of cerebrovascular disease.


Beginning with an overview of the key risk factors for stroke, most of the major stroke types and syndromes are detailed, as well as the key genetic advances for several stroke mechanisms and etiologies. The text also provides expert guidance for evaluating patients' genetic stroke profile. Extensive bibliographies for each chapter further guide the reader to topics of particular interest.


As the pioneering text on this topic, Genetics of Cerebrovascular Disease should be of considerable interest and value to both clinicians and researchers in this area.
Contributors.
Preface.
Part I. Genetic Principles and Techniques.
1. Genetic concepts and Techniques.
M.J. Alberts.
2. Genetic epidemiology and linkage.
M.C. Speer.
3. Molecular genetics and gene isolation.
M.J. Alberts.
.
Part II. Genetics of Risk Factors for Cerebrovascular Disease.
4. Genetics of hypertension.
L.P. Svetkey, E. O'Riordan, P.J. Conlon, O. Emovon.
5. Molecular Genetics of Lipid Metabolism.
C. Graffagnino.
6. Genetic of Atherosclerosis.
T.J. DeGraba.
7. Genetics of Coagulation Disorders.
T.L. Ortel.
.
Part III. Genetics of Specific Stroke Etiologies and Syndromes.
8. Genetic Epidemiology and Family Studies of Stroke.
L.M. Brass, M.J. Alberts.
9. Inherited Cardiac Diseases that Cause Stroke.
M.J. Alberts.
10. Vasculopathies.
H. Chabriat, E. Tournier-Lasserve, M-G. Bousser.
11. Intracerebral Hemorrhage and Vascular Malformations.
M.J. Alberts.
12. Subarachnoid Hemorrhage and Intracranial Aneurysms.
M.J. Alberts.
13. Genetic Causes of Pediatric Stroke.
P.I. Andrews, R.S. Kandt.
14. Inherited Systemic Disorders that Cause Stroke.
M.J. Alberts.
.
Part IV. Clinical Applications.
15. Evaluation of Stroke Patients for Inherited Causes of Stroke.
M.J. Alberts, J.M. Stajich.
16. Genetic Counseling.
S.M. Palmer.
17. Gene Therapy.
J.N. Lozier.
Index
Overall, this useful book provides the specialist and the general reader with an extensive and up-to-date review of genetic factors that may play a part in cerebrovascular diseases. The chapters are packed with information and have been written clearly. The book is an excellent resource for physicians dealing with cases of cerebrovascular diseases in which the family history suggests the role of inheritance. ...On a whole, this book fills an obvious gap in the field and is therefore a welcome addition to the neurologic and general medical literature."
--The New England Journal of Medicine

"The audience identified in the preface is both practitioners and researchers. I believe that there is something to be gained from this work for both groups. The editor is certainly reputable in the field and respected.
"I enjoyed reading and reviewing this book."
--Doody's Review Service

"The broad overview provided together with a comprehensive reference list makes this book a valuable addition to the bookshelf of the neurologist caring for young stroke patients or those with unusual stroke syndromes. Although this is a rapidly evolving field, little of what is contained in this book will necessarily go out of date. Rather it will act as a firm base to which future developments will be added."
--Brain